In a vastly altered globe since last year, flexible packaging converters and suppliers seize innovations as they reinvent for a refashioned, post-pandemic economy. After a long pause, live trade shows are returning and putting people on the path to discovering those innovations and forging the partnerships that facilitate them.
"People need that live interaction with not just the machinery, containers, and components of packaging, but with people," says Joe Angel, president of PMMI Media Group. "I don't think you can get that remotely. I don't think there's anything like the live event, where you can bump elbows and kick the tires. I think live shows will come back strong."
The live trade show circuit took a blow in 2020 and early 2021 but is rebounding. Conference organizers have been augmenting their shows for the post-pandemic 21st century—touting them as safe, convenient, and customized to individual needs—while maintaining the serendipity and camaraderie that make live events indispensable.
The transition to virtual events taught conference organizers valuable lessons about attention spans and the hunger for convenient, on-demand content. But experts agree that in-person trade shows have positioned the industry to respond to rapidly changing retail and commercial trends, as they discover and invest in new technologies and accelerate into the post-pandemic era.
"There's a lot going on in the industry right now, and by coming to a show, you really do have the opportunity to see everything, to sit in on sessions, and learn about what other groups are doing or new approaches that are underway," says Laura Thompson, PMMI vice president, trade shows.
Back to Life
Angel says that packaging is a functional business, where people learn from each other. "The cross-pollination from one industry to another is the beauty of packaging," he says. "Technology that one company uses for skin-packaging meats another company uses to package greeting cards."
Live shows offer the ideal environment for seeding that cross-pollination—sparking the idea through a sighting on the exhibit floor or a conversation at a networking event, he notes. PMMI Media Group saw an 80 percent spike in web traffic and digital content engagement in the COVID-19 era, proving that people "were clamoring to find out what's new, what's going on, without live events to attend," Angel adds.
The return of live trade shows meets the demand for renewed networking opportunities, says Dani Diehlmann, FPA's vice president of communications. "Exhibitors want to bring customers on board and make them happy," she says. "The best way to do that is in person. Virtual is not the same as face to face."
Events scheduled for the first two quarters of 2021 tended to remain virtual, but the calendar for the second half of 2021 is stocked with live events—with the caveat that all are subject to change. They include Converters Expo, Aug. 9–10, in Green Bay, Wisconsin; PACK EXPO Las Vegas and Healthcare Packaging EXPO, presented by PMMI, Sept. 27–29; and the FPA 2021 Annual Meeting, Sept. 15–17, at Amelia Island, Florida.
Although live events are on the books, some organizers are extending cancellation deadlines or waiting to open room blocks to give organizers and attendees the flexibility to rethink their decisions as circumstances change.
"We know it's an interesting time, and people might be making last-minute decisions," Thompson says.
For the moment, enthusiasm over a return to face-to-face meetings seems to outweigh fears that flights and hotel room bookings might have to be canceled.
"A lot of people are done with virtual," Diehlmann says. "We want to get back in person. We want to get back to whatever is normal-ish. A lot of people are holding out for in-person meetings—fingers crossed."
Lessons Learned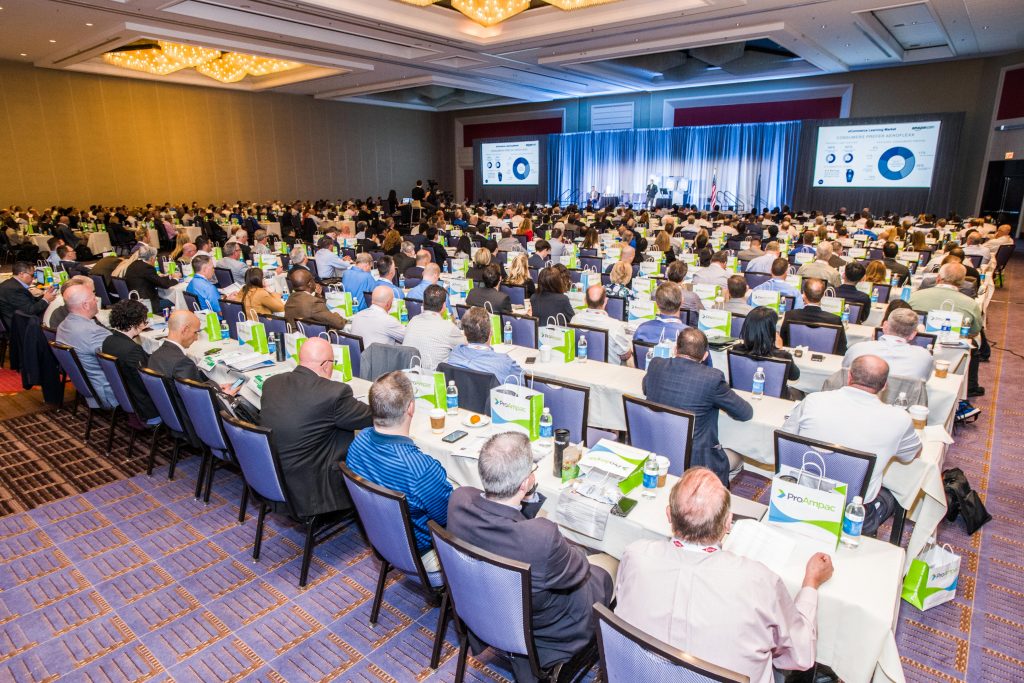 The scramble to develop alternatives to live events provided valuable insights into the advantages and downsides of virtual meetings. For many years before the pandemic, BNP Media had a virtual component, broadcasting educational sessions to attendees in their offices and homes. The shutdown of live events revealed possibilities for expanding the reach of exhibitors, as well. Overall, BNP Media took the opportunity to sharpen its understanding and hone its definition of what constitutes a virtual event.
"It forced the company to consider, going forward, that live events have a virtual component," says Glen Gudino, group publisher, packaging.
After PACK EXPO International was canceled in Chicago in 2020, PMMI quickly created the PACK EXPO Connects virtual event, assuring that it was "educational, as well as meaningful for the attendees and exhibitors," Angel says. Prerecorded sessions, panels, and virtual innovation stages attracted viewers and participants.
Even a technical glitch in PACK EXPO Connects' live demos didn't stop exhibitors from posting their own content and connecting with customers via digital platforms, Angel says. In fact, in a post-event survey, respondents said the suppliers who pivoted under difficult circumstances are the ones they wanted to work with.
While online events reinforced the belief that nothing can replace in-person events, especially in the heavy machinery sector, it also revealed the successful virtual pieces that live eventgoers are likely to encounter again.
For PMMI Media Group, education rose to the top of popularity in virtual offerings. Participants appreciated the ease and convenience of learning in real time, with the ability to chat with presenters and other participants or to ingest the latest news on their own schedules. Much of the videos, panel discussions, and overviews from PACK EXPO Connects evolved into PMMI Media Group's "Content with a Purpose." Repackaged expo content was available across multiple channels for information-hungry users to watch, listen, or read on their own time through the end of March 2021.
"That was a good thing that came out of this compressed innovation," Angel says. "It set the stage for something we can do, not only this year but for years to come."
With that revelation, PMMI Media is investigating how to combine virtual content and learning with in-person events. "We can't approach shows like we used to," Thompson says. "We all realize we have to have some kind of digital component to what we're doing. We think that education piece is a good component to continue when we have our in-person event."
For virtual attendees, PMMI is also developing improved search functionality and "cool 3D machinery tours."
"We're trying to deliver multiple ways for exhibitors to see and reach their customers, as well as for customers to learn about the industry and what's out there," Thompson says. "There's no one-size-fits-all anymore."
Across industries, conference organizers learned about the challenges of retaining the attention of virtual attendees—distracted by the daily barrage of demands while working from home and caring for loved ones. BNP Media invested in the Intrado virtual-meeting platform to inject an in-person feel into virtual events, hoping that participants stay longer. The platform allows more interaction, points participants toward exhibit halls and live sessions, and features higher-quality sound and video.
"It's a little bit more engaging, and it's a little bit more attractive to people," Gudino says. "From an exhibitor experience, we can give them contact and interaction with attendees without sacrificing security, safety, and privacy."
The key to successful events from now on, Gudino adds, "is to incorporate some type of virtual component and to make the people who are at home feel like they're part of the event, and for the people who are at the event, to make them feel safe."
Health And Safety Precautions
At live events, the return to "normal" will feel abnormal. Buffet meals, butlered appetizers, confabs in close confines—all are being sacrificed to the ongoing need for social distancing and contactless delivery. Prepare for temperature checks, hand sanitization stations, and registration streamlined by technology.
Networking might be contraindicated by social distancing, but conference planners are finding workarounds. PMMI scratched a charity concert that's usually part of PACK EXPO, but networking events are still planned.
"One of the key components of these events is people getting together and feeling engaged," Thompson says. "Networking just might look a little different, and the seating might be a little different, with a little more spacing between people."
Conference organizers are monitoring government guidelines and working closely with venues to deliver safe experiences. Venues are stepping up their protocols, air filtration, and sanitization procedures to reassure attendees of their safety.
The Las Vegas Convention Center welcomed back its first conference in June. That scheduled event, plus the convention center's attainment of Global Biorisk Advisory Council (GBAC) Star Accreditation for its cleaning protocols and safety procedures, helped give PMMI the confidence to relaunch PACK EXPO in live format. Plus, two PMMI employees on the conference-planning team are GBAC-trained technicians—accredited in outbreak prevention, response, and recovery.
"The trade show industry has come together more than ever because of COVID," Thompson says. "We are so mindful of the times we are living in, so we want to make sure we're doing everything on the up and up to make sure we have a safe place where people are comfortable coming to."
For 2022: Doors Will Be Open
Next, 2022 looms as a banner year, when live shows resume in full—it's hoped. BNP Media anticipates a fully live schedule in 2022, Gudino says. "We're planning on all of our events being in person."
The March 2020 version of PMMI's biennial PACK EXPO East was one of the last regional conferences to be held before everything shut down. For the 2022 edition, sales are ahead of the 2020 pace.
"So far, everybody seems excited about it and is committed to participating in that show," Thompson says. "We think people are definitely going to be ready to return."
And that's as it should be, Angel says. He sees expo doors opening in response to demand for face-to-face interactions and encounters with the trends that keep flexible packaging in step with a dynamic, recovering economy.
"It's human nature to want to be together, and long-term relationships are very difficult to build remotely," he says. "There's a pent-up demand for people to get out and about to see innovation and technology. If people can travel safely, they will clamor to get to a live show."
---
M. Diane McCormick is a freelance writer and editor based in Harrisburg, Pennsylvania.