At the start of a recent webinar, partic­ipants were asked how much money it would cost to invest in proven recycling systems in the United States, and the var­ious stakeholders showed that they understand it will take billions. Many respondents placed the figure at around $17 billion, which is where The Recycling Partnership puts the number, as well.
"Doing so would have an immediate positive impact, including an economic benefit of $30.8 billion over 10 years," says Tiana Lightfoot Svendsen, director of film and flexible recycling advancement at The Recycling Partnership, a Washington, D.C.-based nongovernmental organization (NGO). "And that includes wages, taxes, landfill savings, and the value of recyclables."
Still, that investment will not come easy. For flexible packaging and films alone, the required investment would be a sizable chunk of that total. "When we're looking specifically at film and flexible packaging, $4 billion is needed to create residential recycling solutions," Svendsen says. "That is a tall order. And right now, we do not have that kind of budget with our coalition, but we are making the most of what we do have in testing technologies."
Svendsen leads The Recycling Partnership's Film and Flexibles Recycling Coalition, a group of stakeholders along the packaging supply chain working to increase the recovery of film and flexible packaging. She and her colleagues were part of a webinar moderated in July by Alison Keane, president and CEO of the Flexible Packaging Association (FPA). FPA is among The Recycling Partnership's 80 funding partners that include NGOs, consumer packaged goods companies, retailers, trade groups, and the U.S. Environmental Protection Agency. The Film and Flexibles Recycling Coalition has several FPA members, including Dow, Amcor Flexibles, and Berry Global. The Association of Plastic Recyclers and the Sustainable Packaging Coalition advise the coalition.
Examining California
The seminar updated participants on the overall issues but also looked at what is happening in California, which tends to set precedents other states follow. California is important because it also has the most stringent legislation, Svendsen says. California's law might result in companies having restrictions on soft plastics, she says. She points out that film and flexi­ble packaging materials are the second largest packaging format overall. The top material is corrugated paper.
"The partnership is tracking legislation very care­fully to determine how we can have the most impact and how we can make sure that we are utilizing packaging formats that make the most sense for the environment," Svendsen says, adding that flexible packaging's unique qualities and attributes cannot be replaced. "We need film and flexible packaging, and it has a much lower carbon footprint. There is no substitution available for the same performance for a lot of these needs."
Keane says after the webinar that current labeling and extended producer responsibility (EPR) laws do not have outright bans on materials. "But there is always the concern that California will try to ban some or all of our packaging types—including the highly recyclable— even though it is unrealistic and more often than not counterproductive to good environmental outcomes," she says.
Although regulations to implement the laws have not been developed, she adds, "the concern is the competing provisions of the underlying legislation." For instance, California's Senate Bill (SB) 54 has reduction goals alongside recycling rate goals. But FPA believes label­ing provisions in California's SB 343 will increase the amount of recyclables going to landfills, she explains.
"So, it is hard to see how you achieve the high recycling rates while reducing the amount of packaging used as well as the amount of packaging that is deemed recyclable in the state," Keane says. "And where will post-consumer recycled content come from when valuable resources will be thrown in the trash instead of collected for recycling?"
Dan Felton, executive director of AMERIPEN— American Institute for Packaging and the Environment, says his organization is also paying attention to the implementation of SB 54, particularly pertaining to what he calls "potential scope creep."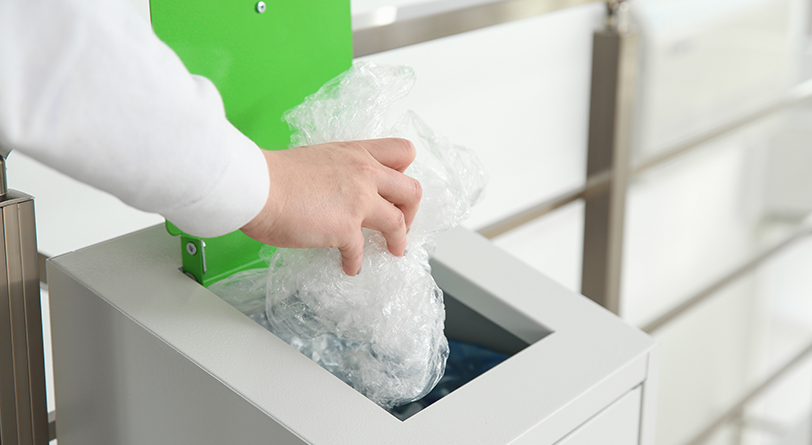 "Will the final rules match the intent or letter of the law, and what was negotiated in good faith amongst stakeholders? It is our view that SB 54 was not expressly intended to ban any materials, but the fear is there that it might end up happening since some of the statutory language is not entirely clear in that regard," says Felton, who did not attend the webinar. "The source reduction requirements in SB 54 are also causing some anxiety within the industry—how exactly are the requirements to be met and will the producers, collectively through the producer responsibility organization (PRO), be able to meet those requirements?"
He also notes that Maine, Oregon, and Colorado adopted EPR laws and likely will be fully up and running before California's program.
Ongoing Research
While the regulations are being developed in California, The Recycling Partnership is researching people who participate in store drop-off programs to figure out why and how they participate. Store drop-off services are important because they motivate consumers and keep them engaged in recycling, Svendsen says.
Lessons will inform how to move forward with store drop-off and how The Recycling Partnership can provide support. But drop-off programs are not enough to solve the larger problems, she adds. Only a small percentage of U.S. households—estimates put it at 2%—can recycle film and flexible packaging at the curbside. And material recovery facilities (MRFs) have difficulty managing the film while finding end markets for it after it has been through the recycling process.
"We see store drop-offs as a steppingstone to curb­side," Svendsen says. Material gathered through drop-off programs tends to have less contamination, which makes it more valuable. "Store drop-off is yielding the best results with recyclability. However, we must have curbside recycling for film and flexible packaging because of the sheer volume of the material and for convenience. Not everyone is willing to drive to a store to drop off packaging in a separate container. We must make it convenient for everyone to participate."
Long term, the coalition's goals are to bring curbside recycling of films and flexibles to more Americans, increase demand to support end markets, and achieve a 30% recovery rate. And that is where huge financial investments will be needed in communities nationwide, she and others point out.
Seeking Solutions
The coalition routinely examines and tests technologies to determine what could be reproduced at scale to improve recycling systems and create end markets. Films and flexibles can gum up machinery at MRFs, so it is important to find ways to separate those materials from other waste streams. Hand sorting is costly and ineffec­tive. However, robotics can assist with the hand-sorting process. Vacuum hoods and optical sortation—the use of barcodes on materials to separate materials out—also are being researched. Machine learning and artificial intelligence (AI) are being studied, as well.
"It is important for us to not just look at one tech­nology. We want to make sure that we are evaluating as many of them as possible," says Marcquel Pickett, plas­tics value chain director at The Recycling Partnership. "And as there continues to be more advancements with machine learning, AI, optical sorting, and robots, we want to make sure that we are trying to work with as many of our partners as possible to prep them on the effectiveness of their technology."
Pickett says new end markets are critical. MRFs need incentives to find ways to handle films and flexibles, which have historically only served to damage MRF machinery. The Recycling Partnership's research has focused on understanding the challenges at MRFs, including labor costs, and whether modern technologies can create end markets through more efficient sorting that would no longer make film and flexibles a contam­inant, he explains.
"Hand sorting isn't financially viable, but maybe if we add in a vacuum hood, the model is tipped with robotics," Svendsen adds. "There's a lot of work going into where in the process this type of equipment should go to yield the most value."
The Recycling Partnership's technical team looks at whether an optical sorter should be in the front of the process or in the back, she mentions as an example. "The technical team is diligent about looking at the economics and looking at the process at the MRF and determining what is going to make the most sense," Svendsen says.
For now, the return on investment is not there for MRFs to invest heavily in recycling film and flexibles, Pickett says. "It's important to keep in mind that MRFs treat film as a contaminant," he says. "Until there is an end market that shows what the value of that mate­rial might be, there's not much encouragement for the MRFs to take on those additional capital dollars required to commoditize."
Because of those concerns, Felton says, he is not sure advancements in recovery and recycling technologies will be widely used at MRFs over the next few years. "But I do think they will become more predominant," he adds. "I think the barriers to wide use are both cost and lack of end markets, plus some general resistance to change. Targeted EPR funding, for example, could help bring some of this to scale."
Expanding Recycling
Expanding curbside recycling nationwide would make the material more desirable to MRFs, Svendsen says, especially as the sorting technologies evolve. "Through this work, we really want to bring curbside recycling and films to more Americans. And part of doing so is making the material more desirable for MRFs—making it easier for them to capture film," she says. "In addition to that, we need to increase demand to support end markets. We need to have more places where film and flexible packaging can be processed."
The Recycling Partnership does not have a timeline for achieving a 30% recovery rate. "We are still in the exploration phase, determining which technologies are best suited to capture film at the MRF," Svendsen says.
Keane says The Recycling Partnership's research is important. However, as the NGO raises more money to do its work, she would like to see specifics about the efforts in California and a focus on film and flexible collection and sortation. "Where will that money go, exactly? What is the short- and long-term vision if they get all the funding they need or if they only get a portion?" Keane says. "Will it be phased in in different parts of the state with different partners, or is the vision to do the entire state at once? Will it end in continuing programs that the PRO could then contract with, or simply be a blueprint for the PRO to follow, or some­thing in between?"
The details will be different if the goal is to improve store drop-off systems or if it is to transition to curbside recycling, she notes. "In either case, what does a rollout look like, what is the timing, and what are the deliverables?" Keane asks. "I believe that if collection and sortation could be demonstrated, the recycling and composting would follow organically as there are markets available."
Lessons From Others
In seeking solutions, the partnership studies other areas such as Canada, where recycling systems are more mature than those in the United States. "Looking to the future, Canada is ahead of us in its journey," Svendsen says. "So, we are funding some research that's being done on the Canadian market to figure out what types of equipment there are most effective and what types of actions are increasing recovery rates for film and flexible packaging."
As The Recycling Partnership determines what works, it will seek to scale those solutions, replicate them, and share an economic model that other groups can use, she adds. "The Recycling Partnership is coming at this at every single angle," Svendsen says. "We want to help develop end markets, we want to work with MRFs to make sure they have the tech­nology that they need, and we want to work with residents to help with that consumer behavior and education piece."
Felton says he encourages U.S. decision-makers to look at Canada and countries in Europe for lessons to learn. "But I caution against considering those as role models for the U.S. We have unique needs and jurisdic­tional and regional issues here in the U.S. that I believe need unique solutions—not just what has been done before in other countries," he says.
"It's also important to point out that the existing programs around the world are continuing to evolve themselves, being reshaped to address packaging that wasn't even in the marketplace 20 to 30 years ago when these programs were first established and to incorporate new technologies," he adds.
Felton is optimistic about the future, and he says he rejects rhetoric from those who say recycling in the U.S. is broken. "It, like any industry, is continuing to evolve and respond to market demands and shifts and new technologies," he says. "The U.S. recycling industry is continuing to make significant investments into its infrastructure. In five to 10 years, I think we will see recycling in the U.S. even more expanded, innovative, and modern than it is today—hopefully, supported by innovative and thoughtful public policy, including more harmonized definitions and standards."
---
Thomas A. Barstow is senior editor of FlexPack VOICE®.