By 2030, Proctor & Gamble (P&G) intends to reduce its use of virgin petroleum plastic in its packaging by 50%. "This is no small goal," Ken McGuire, a former research fellow at P&G, tells a standing room-only crowd at PACK EXPO International in October. " … Proctor & Gamble knows that the way we win with our consumers is by delivering an absolute best-in-class performance, an experience that they can't get from any other brand. So, when we talk about sustainability, we will only deliver sustainable solutions in ways to continue to delight the consumer."
McGuire, who retired from P&G in January after nearly 28 years with the company, gave his presentation on October 24 in Chicago. The presentation—"Designing Breakthrough Technology with Sustainability in Mind"—outlined several ways the global maker of consumer products has been achieving sustainability goals.
Sustainability Approach Evolves
Over time, the company has gone from viewing sustainability as a problem to one where it offers opportunity. "We now look at these problems through a different lens, which is how we can create a better experience and one that's also more sustainable," McGuire explains.
About 10 years ago when sustainability became an industrywide goal, the solutions often came with tradeoffs, such as packages that didn't properly protect or preserve products. "That's part of the reason that a lot of companies didn't want to take those on," says McGuire, who received a doctorate in chemical engineering from the University of Texas at Austin in 1995. "We have found ways to take those challenges and create things that are even better than what exists today and are more sustainable."
That can be achieved through innovations with packaging materials, as well as innovations with recycling partners. "Lightweighting is a big deal for us," he says as an example.
Each P&G brand—including Tide® laundry detergent, Crest® toothpaste, and Gillette®—develops its own packaging strategy to ensure each brand can protect its product and serve the targeted consumer. "Having said that, we do have corporate programs that we're putting in place to assist those brands," McGuire says.
About PureCycle
An industrywide goal is to use less virgin petroleum resin in packaging, but post-consumer recycled (PCR) content is not as good, he points out. PCR that is black or that smells bad can only be used for certain applications, such as trash bags. The company developed a process that removes impurities from PCR content so it can be used for more products.
"The project that we started about eight years ago uses liquid extraction technology to remove those impurities so what you get out is a material that looks almost exactly like virgin resin," McGuire says. After P&G found success, it worked to create a separate company called PureCycle that commercializes the process. The goal is to take the success at a pilot plant in Ohio and make it available throughout the packaging industry. "We have an interest in everybody creating bigger volume for this material."
The pilot plant has been running since July 2019. "It's basically demonstrating not only that the technology works but that we can make the economics work, as well," he adds.
Sorting With Barcodes
Another project involves using an array of invisible barcodes placed on packages that can help with sorting packaging materials to improve the mechanical recycling process. A recycler uses cameras to identify materials so they can be separated into different streams. "We have the pilot underway in Europe, and a huge consortium of companies have joined with Procter & Gamble because, again, this is not a unique-to-Procter & Gamble problem. This is a unique-to-the-industry problem," McGuire says. " … Using this technology, we're able to create higher-value streams, which allows us to use those higher-value streams back in our products."
Innovations in Product Development
McGuire also talks about the creation of AeroFlexx, a company that started with P&G but is now a stand-alone packaging company. The design of the AeroFlexx package and its innovative spout uses less plastic than a traditional package and costs less to ship, proving to be a good solution for e-commerce applications. The unique qualities provide a strong package that can withstand forces that would break other packages, he says.
"We could drop this from 30 feet, whereas a typical bottle, if it drops from 4 feet and doesn't break, we consider that successful," McGuire says. "That then led us to believe that we could probably ship it in something like an Amazon box."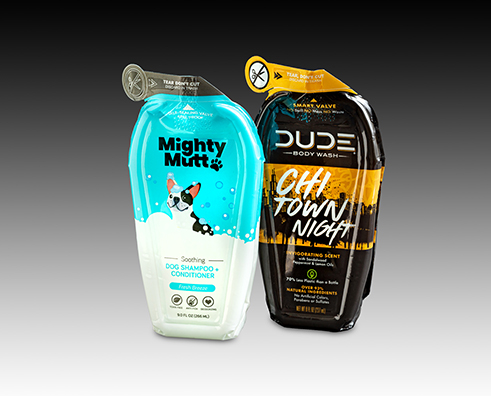 For a typical package, Amazon will put tape over a cap or place it in a plastic bag; if the liquid container fails, it will not contaminate other products in the same shipping carton. "With this product, you don't have to do that," he says about the package originally intended for brick-and-mortar stores.
AeroFlexx was formed because P&G is not a packaging company. "We have a lot of packaging R&D technologists, but we don't make many of our own packages," he says. That allows AeroFlexx to serve P&G brands but also competitors.
The company has found that at times, the intended consumer might not be the best market for a new product. For example, test marketing determined that modern packaging at AeroFlexx did not appeal to older generations, but it did appeal to males age 18 to 25. "They wanted new things. They wanted new experiences. They were open to new ideas," he says. "So, sometimes, the rejection isn't because the packaging technology was wrong, it was because the audience was wrong."
Editor's note: In the main image, Ken McGuire, who recently retired from Proctor & Gamble, gives a talk at PACK EXPO International in October on how to find opportunities when seeking sustainability solutions. Photo by Thomas A. Barstow
---
Thomas A. Barstow is the senior editor at FlexPack VOICE®.