Charlie Marshall remembers when packaging for pet foods was functional but nondescript. "Traditionally—and really not too many years ago—you would walk down the pet food aisle, and there were metal cans, multiwall paper bags, and that was about it," says Marshall, a partner at Priority Metrics Group, a business-to-business marketing research and consulting firm based in South Carolina. Consumers would open the multiwall bags with a pull string.
"And now look at what companies have been able to do with shelf appeal through printing. They are billboards now," he says. "And they have zippers and all kinds of openability and close-ability options that weren't there five or six years ago."
Marshall is referring to some of the entries in the 2023 Flexible Packaging Achievement Awards Competition. He is one of three judges who examined nearly 90 entries in the annual contest that dates to 1956. Companies that are members of the Flexible Packaging Association (FPA) submitted their products to be evaluated in up to six categories: expanding the use of flexible packaging, technical innovation, printing, shelf impact, sustainability, and packaging excellence.
Over two days in December, Marshall joined Jeff Peterson, president of Peterson Media Group, and Gary Borges, who does consulting work and teaches packaging at the University of Wisconsin-Stout, to sift through the entries one by one and discuss specific qualities. By the end of the second day of judging, they reviewed their notes and determined the winners, sitting for short videos that discuss why they picked the entries for either gold or silver awards. FPA will show the videos when the winners are announced later this month during FPA's 2023 Annual Meeting that will be held at the Ritz-Carlton, Amelia Island, Florida.
Each Entry Discussed in Detail
The judges review each entry without overtly knowing the manufacturer. At times, they may like a package but not for the category in which it has been entered. For example, one entry is for Cracker Jill™—a play on the Cracker Jack® candy that has been a staple at ballparks for 125 years. The package is entered into the competition for expanding the use of flexible packaging, which is a category designed to represent an improvement over an existing package or that provides a new packaging solution. The judges also look for how the packaging might have expanded to other end uses or created a new product.
Cracker Jill™, a limited-edition product for 2022, celebrates "the women who break down barriers in sports." Each snack-sized bag has an illustration of a young woman. "The five Jills depict the five most represented ethnicities in the U.S.," according to the entry.
The judges like the marketing idea but think it would have been stronger if it had been entered into the competition for shelf appeal. Throughout the first day, the judges often consider moving an entry to another category, something allowed as part of the judging process.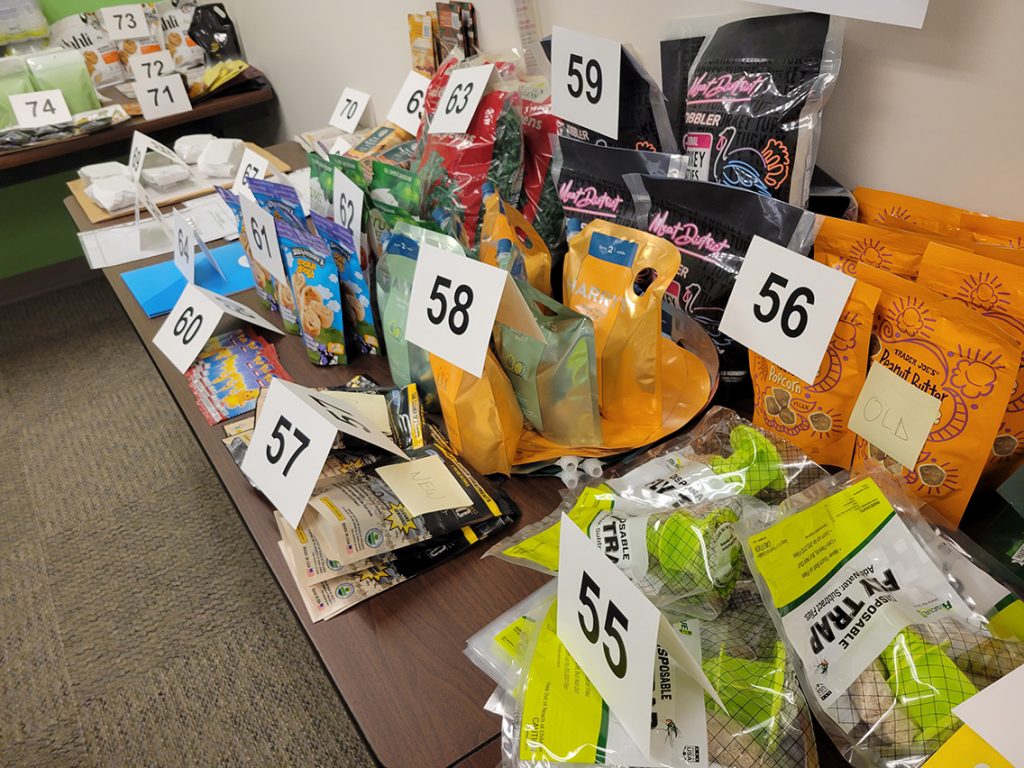 The judges note when products provide easy-to-open and easy-to-close systems—or when the closures don't work so well. With some packages, such as ones intended to hold medical marijuana, child-resistant/senior-friendly systems become a source of discussion. "Seniors can still get in, but kids can't," explains Alison Keane, FPA president and CEO, who attends the judging to offer guidance but does not score the entries.
They praise a package used for vaping pens, noting its understated plain brown graphics wouldn't appeal to children. The packaging of the Supply™ Indica Vape Pen 300 mg is plastic but made to look like paper. It
is entered into the categories for expanding the use of flexible packaging, technical innovation, printing, and shelf impact but not packaging excellence or sustainability. "It is not paper, but they want you to think it is—which is innovative," says Peterson, whose company publishes several industry-related magazines, including Converting Quarterly and PostPress. " … They created this brown look with ink and then created a matte coating. They want to make it boring. The simplicity keeps the bag unattractive and not for children so they are helping children to leave it alone."
They also praise the technical innovation behind the RESCUE!® Outdoor Disposable Fly Trap. The packaging is part of the trap system that holds water and allows for easy disposal after the trap is full.
At least one package has step-by-step instructions on the back showing consumers how to clean and prepare the package for recycling.
Some entries involve more conversation, but the judges methodically go through each one, noting scores of 1 to 10 on paper. FPA does an initial tally; more discussion ensues.
Sustainability
The contest offers an opportunity to see advancements in sustainability. The improvements can seem incremental but show a dedication toward making packaging reusable, recyclable, or compostable, the judges point out.
Those efforts include increasing the amounts of post-consumer recycled (PCR) content in packaging, which a lot of the entrants highlight in their descriptions for the sustainability award. Some of the packages that use PCR can look sharp on a shelf, but close examination reveals tiny pits and bumps in the material. Those defects likely would not bother consumers, Borges says. They probably would view such imperfections—even if they saw them—as a trade-off toward circularity, he suggests.
Overall, the industry is moving in the right direction, he later adds. "I am OK with iterations," Borges says.
"We still do a lot with sustainability. But nobody knows what the next five or 10 years is going to look like."
Companies worldwide continue to struggle with the best approaches toward sustainability, he and others say. A life cycle analysis of a flexible package made with plastic will show superiority with sustainability over other materials, including paper products, Keane says. But plastic continues to have problems with public perceptions, sometimes leading companies to seek less environmentally friendly options that are more costly to produce.
Just about everyone in the packaging industry—including consumer packaged goods companies—struggle with the best ways to proceed, Borges says.
"Everybody is trying to figure out the best steps," he adds.
Marshall points out that all of those issues make sustainability difficult to judge. "Sustainability is such a moving target relative to definitions and misinformation, greenwashing, and what is possible and not possible—both short term and long term," Marshall says. "I just think there are a lot of things, hopefully, that we can get cleared up over time. It is good to have aspirational goals—but what is going to be realistic?"
The judges are on high alert for greenwashing claims, while also noting when companies hit on a new trend or idea. Keane, for example, points out to the judges that one package—Walex Commando® Black Holding Tank Cleaner & Sensor Store Drop-off Recyclable Pouch—has the recycling information on the front of the package in space usually reserved for marketing information. She says she hasn't seen that before. "Companies tend to just put their branding on the front and not have a whole bunch of other stuff," Keane says. Instructions and details usually go on the back. Most companies don't use the valuable marketing space on the front for such information. "But these guys did, which is amazing," she adds.
They give high marks for sustainability to the Kirkland Signature® Ultra Clean HE Laundry Detergent Pacs, which are entered into each category. The flexible package replaces a rigid container. Under sustainability, the entry says the new flexible packaging will save 1.2 million pounds of resin and 600,000 gallons of diesel fuel annually.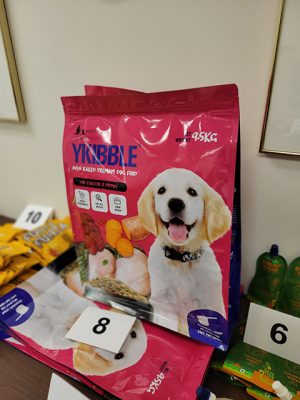 They notice when companies use alternatives to aluminum foil. Keane says companies increasingly will do so because of aluminum shortages created by trade sanctions on China and that the U.S. Department of Commerce might expand to South Korea and Thailand.
They examine an entry that is a metalized polyester film for aluminum foil replacement. Keane explains how the replacement film can be easily made in the U.S., while aluminum foil largely comes from overseas. An ionization process allows the replacement to be nearly as effective as aluminum foil, she says. "I would say it is leading-edge. We have had metalized plastic forever. But if they can get close to the barrier of the aluminum foil—and they can actually replace it—that is huge," Keane says.
Printing and Graphics
Much discussion centers on the graphics and printing, with the judges noting that some of the packages have nearly perfect images. "Eye-popping graphics," Marshall says. "There are some great things they are doing with matte finishes, foils, and some really beautiful graphics."
Peterson points to interesting touches in some of the packaging entries, such as a flexible package for mayonnaise where the image on the front is a glass mayonnaise jar. He says the image will help consumers transition to the flexible package. "I guarantee you that is well thought out," he says.
Peterson later adds that the printing and graphics were outstanding on several contest entries. "I was impressed with how several of the entries utilized the metallization in their product and used it with their graphics and with their printing," he says, adding that the digital printing also caught his attention. "Digital is going to continue to grow."
Borges, who retired in 2018 from Atlanta-based Printpack, teaches part time at the University of Wisconsin-Stout. In 2022, his students swept the awards in FPA's annual Student Design Challenge. He says he hasn't judged a contest before but will be able to use the experience from December to inform his students about improvements to their entries in future contests. "I am always building on new ideas," he says.
---
Thomas A. Barstow is the senior editor of FlexPack VOICE®.