The Flexible Packaging Association (FPA) has long been the voice of flexible packaging industry, and that voice has been stretching to reach more places in recent years. FPA's accelerated advocacy assures that the full realm of businesses directly or indirectly engaged in flexible packaging benefit from knowledgeable, targeted advo­cacy. Now, FPA is strengthening its voice by opening its membership to businesses providing key support to the industry while redesigning meetings to reflect the urgency of the times.
"It is extremely important to have as many voices as possible involved in the conversation related to the key issues in front of our industry," says Russell Grissett, president of global flexibles at Sonoco Flexible Packaging. "Sustainability, greenhouse gases, recycling, how to manage waste, and the role the private and public sectors play—they are all critical issues."
FPA's board members and members of the Emerging Leadership Council (ELC) are driving the membership and meeting initiatives. "It is a good combination of folks in leadership positions today on the board and our emerging leaders who often have great ideas that those of us who have been around longer might not think about," says Alison Keane, FPA president and CEO.
Broader Reach
Every time legislation is proposed involving extended producer responsibility (EPR) or post-consumer recycled content, FPA is there. If plastic packaging bans are floated, FPA is there. If policymakers are dis­cussing aluminum foil tariffs, recycling infrastructure, or regulatory reform, FPA is there.
But as threats to the industry accumulate, the board felt it was time to expand the membership base. While converters and associates have had access to membership, a newly approved class extends membership to those servicing the industry. They can be distributors, brokers, financial services, law firms, or manufacturers integral to the supply chain. "We need more soldiers on the advocacy front," Keane says. "They are part of the solution and part of the defense against potential threats to the industry and its success over time, so why not bring them in and help us with that advocacy and with that protection of the industry?"
The supporting membership category comes with all of the value afforded to current members, except a vote and a seat on the board. Supporting members receive access to FPA reports and benchmarking data that are valuable to growing their businesses and deciding where to spend their capital and resources. They will have access to communications, data, and promotional materials, plus the opportunity to network with fellow FPA members and contribute fresh new voices to the advocacy that protects the industry.
As more states and municipalities increase their legislative activity involving flexible packaging, members of the board and executive committee realized that achieving organiza­tional goals and objectives on the industry's behalf required "broadening our reach," Grissett says. Over the course of multiple meetings, the board and work groups determined pathways to creating value for new members while remain­ing aligned with the needs of existing members.
The supporting membership reaches those "who are already engaged and involved in the flexible pack­aging industry," Grissett says. "How do we get them involved in FPA so we have a larger presence and a larger voice?"
Membership expansion further enables FPA to educate the broadest audience possible, adds Grissett, a member of the FPA board and executive committee. "It is not just advocacy," he says. "It is education about the facts around science and the law of unintended consequences that a potential legislation change could have on consumers."
Increasing FPA's reach also becomes imperative as each state could pass different legislation regarding flexible packaging. So far, only California, Colorado, Maine, and Oregon have passed EPR legislation. Membership expansion brings in more voices and the revenue needed to enhance education and advocacy on multiple fronts.
Why join FPA? There is the importance of being vis­ible in the industry because otherwise, "out of sight, out of mind," says Catherine Heckman, business director for Ashland and national sales director in flexible packaging and narrow web at Bostik, Inc.
It is also about networking at the annual meetings, where attendees can schedule face-to-face meetings with suppliers, equipment manufacturers, and customers, "even if it is on a casual basis," she adds. "You are always getting to know somebody new. It is really all about partnerships and relationships."
Meetings Reimagined
The membership initiative pairs with another new effort to reimagine FPA's meetings. While member feedback indicates that the springtime Annual Meeting remains relevant, the FlexForward® Fall Conference is getting a makeover, which is expected to debut in 2024.
Instead of presenting it as a "mini Annual Meeting," the reinvigorated Fall Conference will zero in on shared challenges, Keane says. The event will include forums for meaningful discussions as sustainability, recycling regulations, and corporate visions grow increasingly stringent.
The Annual Meeting tends to attract C-suite partici­pants, while the reimagined Fall Conference will bring substantive content to their teams.
"We are trying to position the fall meeting to meet the needs of the folks that are doing the day-to-day technological, sustainability, and policy work in the rest of the company," Keane says.
Jarred Carter, president of Flexible Packaging CUSA at Siegwerk, was just beginning to participate in the fall and annual meetings when COVID-19 arrived. He could see heightened attention paid to FPA's lobbying and regulatory advocacy on behalf of its members and the industry.
Today, as an FPA board member serving on the meetings reimagined work group, Carter is sharing a supplier's perspective. FPA events have always offered connectivity, and rebranding offers opportunities to continue building on that strength, he says.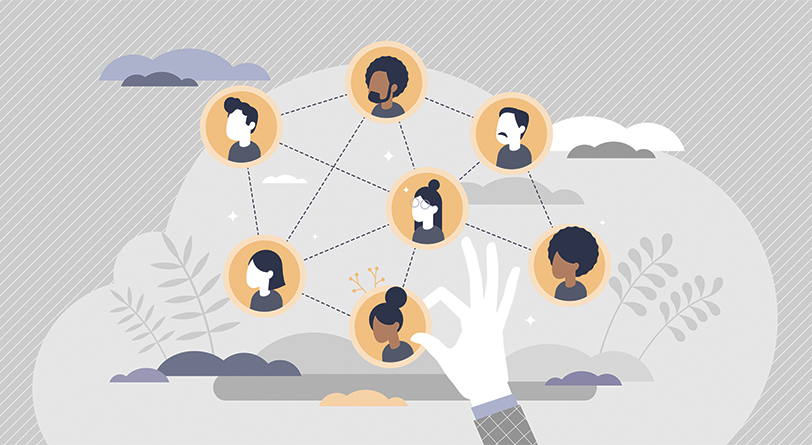 "It really provides a fantastic platform for net­working with our customers, especially with key or final decision-makers," Carter says. "These are people that we do not always get to spend a lot of time with throughout the year, but you like to spend time with them. It is good fellowship that builds strong and highly valued relationships."
However, networking is only as good as the number and expertise of the people attending the meeting. The key to reimagining the Fall Conference is creating a differentiator from the Annual Meeting in the spring, increasing attendance, and attracting a demographic of skilled professionals from the flexible packaging galaxy.
To Carter, classic networking events remain valid, but today's networking also needs to bring together people steeped in creating solutions for the industry's top challenges and seizing opportunities.
Each person brings a piece of the puzzle to a confer­ence so a fuller picture emerges for everyone there, he adds. For example, supply chain upheavals continue to dominate discussions as industry players ruminate over the causes and solutions.
"When you start to talk to your colleagues and peers in the business, a much clearer view starts to coalesce, and it is helpful toward understanding and predicting what is happening with your business," he says.
The reimagined Fall Conference will also position itself to attract representatives of consumer packaged goods (CPGs) companies, encouraging those who design the specs to get involved in sustainability and recycling conversations early in the process. This confer­ence connects those CPG customers with "a different cast of characters," Carter says. They could be from technical and operational levels deeper within flexi­ble packaging businesses. "The discussion that we are having right now is trying to connect certain technical, sustainability, and operational initiatives in our space to the end user," he says.
FPA is also considering proximity and access in site selection, looking for meeting spaces accessible via direct flights and surrounded by enticing places that foster networking. "It is important that we find a venue that gives the people who attend a lot of optionality," Carter says. "When we are not at the event, we want to be able to spend time with our friends and colleagues doing something fun off-site."\
Volunteer Leadership
The FPA board is full of industry experts who should be tapped to share market trends and industry insights with FPA members, Heckman says. "How do you tap into the industry experts and start getting the message out to the industry in a much better fashion?" she asks.
To answer that question, Heckman suggests formu­lating panels of industry insiders to make conference content "more intriguing." "If you put a panel up of the leaders of four or five large flexible packaging converter companies, without giving anything proprietary away, they can share what they have been experiencing, common threads, and the outlook for the balance of the year," she says.
In talking to her customers, Heckman sees a trend where businesses in flexible packaging typically choose their own paths and "pick the low-hanging fruit" for addressing challenges rooted in systemic problems—for instance, tackling sustainability by focusing on recy­clability or compostability, when the real problem is the lack of infrastructure in the United States.
"How do you pull that all together for the industry, and what does that really mean?" says Heckman, who serves on FPA's Chairperson's Advisory Council. "Let's really get to the crux of what is going on in our business."
That kind of meeting could attract owners of smaller businesses or division directors from within the industry, Heckman says. A key factor of the reimagined Fall Conference is opening attendance to nonmembers for a more comprehensive gathering of industry pros while exposing them to the benefits of joining the association that fights for all of them.
"It is hard to become part of an organization if you do not know what the return on investment is going to be," Heckman says. "We need to make sure that new members understand what they are getting. It is not just networking. It is the industry information, new trends, and things that are going on."
Refreshing the Brand
The new membership class is expected to be launched in late 2023 during renewal time. FPA board members are developing prospect lists, and all FPA members can play a crucial role in peer-to-peer recruiting. FPA will prepare discussion points for use in talking with suppliers and prospects about the benefits of joining FPA. "We are finding that there are people who would like to join, but they do not necessarily know how to, and they are not sure that they are invited," Grissett says. "We want to make sure everyone understands that if you meet the criteria of supporting member, we welcome you."
Once the new members are enrolled, Grissett hopes they will become involved. With their unique perspectives, they will bring fresh voices to industry discussions. "Involvement is key to membership," he says. "It is not just reading the FPA emails, newsletters, and data that we issue. It is participating in helping solve these problems and bringing your expertise. It just makes the conversations that we have as an organization much deeper and much more meaningful when the supply chain is engaged in the conversations."
The board work groups were clear that nothing in FPA's values or mission will change, Grissett adds. The membership and meeting efforts simply bring more people and enthusiasm under the tent. "Our goals and objectives are clearly defined," he says. "The entire organization is aligned around them, but expanding our reach so we have more stakeholders involved in helping us accomplish that, plus the finan­cial impact of having more members, gives us much more horsepower around executing on our goals and objectives. This allows us to expand our reach and the speed at which we are providing advocacy on behalf of the industry."
---
M. Diane McCormick is a freelance writer and editor based in York, Pennsylvania.