Caylee Boone and three of her classmates at the University of Wisconsin-Stout were tasked with coming up with ideas and prototypes that would advance uses for flexible packaging, so they started to think about how they use products and what could be improved.
"We submitted five ideas originally and three were accepted, so we created three prototypes," says Boone, who worked with fellow students, Anna Kent, Liam Gallagher, and Abbey Dahlseng on the projects. "We started brainstorming ideas for different packages that, if modified, would improve ease of use for consumers."
Just before the semester started, Boone learned that her brother's wife was expecting, so she thought about products that parents use. She hit upon the idea of combining a baby shampoo dispenser with an attached cup for rinsing. Both would be made of flexible packaging material. By keeping the cup and the shampoo dispenser connected, it would greatly add to the convenience of the products.
The judges of the 2021 FPA Student Flexible Packaging Design Challenge agreed, and the four-person team won first place in the contest, receiving a $1,000 prize that they will split among themselves. The annual contest is for students nationwide. And this year, the judges included members of the FPA Emerging Leadership Council (ELC), which formed late last year with the goal of encouraging recruitment and retention in the industry. The council is working on various initiatives in 2021, including conducting surveys of companies and FPA members. But what better way to encourage recruitment than to judge the student contest, says Jonathan Quinn and Adrianne Tipton, who co-chair the ELC.
"Engagement and recruitment of newcomers into the industry is important," says Tipton, chief technology officer at Novolex. "It was exciting to see the engagement and creative thinking of all of the submissions. It shows great potential for the new generation in the flexible packaging industry. Many of the entrants proactively provided sustainability analysis of the packaging, which will be a continued focus for many companies and their developments. This is one of the considerations for category focus in next year's contest."
The 10 judges spent an evening in early February reviewing the 13 entries in the contest.
"The key is for the FPA to find ways to increase the visibility and presence within the industry," says Quinn, e-commerce packaging and shrink film marketing manager at NOVA Chemicals, Inc. "And while this is something that has been done for years, what we hope to do is improve this contest and create ways to use it as a platform to educate and also create engagement within the industry."
First Place
Boone, who acts as a spokesperson for her group, said the initial idea for the shampoo and cup was that it would take up less space in the bathtub, but it also had benefits with sustainability goals. Compared to rigid containers, the flexible packaging would emit fewer greenhouse gases during production and also reduce emissions from transportation because it would be lighter and easier to pack. Sustainability is something professors bring up often during classes, she says. Sustainability benefits aren't always clear to consumers, so the class lessons help her to see the opportunities. And sustainability is one aspect of the flexible packaging industry that has her considering a career in it, she adds.
"I see a lot of things going on in the world that make me want to have a positive impact on the environment," Boone says. "The packaging industry is a good way to make that impact, be creative, and also follow some structure with engineering concepts."
Boone wasn't aware that the ELC was involved but thought it was great that it might lead to networking opportunities beyond her internships.
Second Place
That was true of some of the other students who won in the contest, including Connor Erwin, who is the spokesperson with another team from the University of Wisconsin-Stout that won second place, earning that team a $500 award. Erwin, Ben Lindgren, and Corey Klatt developed an idea of using flexible packaging for bandages that usually come in small cardboard boxes.
"I really feel like, in terms of experience if we didn't win, we already had made some contacts and had a lot of great experience, and then there is the exposure on top of it," says Erwin, who is a junior.
Erwin says his team members brainstormed products that they thought could be improved upon. The small cardboard boxes that package adhesive bandages often fall apart and spill out when trying to get one.
"They are not really convenient," Erwin says. "We were thinking about fixing this problem with a resealable flexible pouch. It fits inside any of your pants pockets. It would fit in any purse or travel bag."
The judges liked the idea because of the convenience and portability, noting that it wouldn't be too difficult to re-tool production lines to insert bandages into a pouch rather than a box.
That prototype was among 19 ideas that his team considered, but they whittled that list down to four prototypes that were made for the contest.
Honorable Mentions and Other Ideas
Erwin's group also won an honorable mention for a concept with flexible packages for travel-size shampoo and conditioner packets, which teammate Klatt initially suggested, Erwin says. Travel-size containers usually are made with rigid materials. And their flexible packaging design could be single-use or refillable.
"Making it refillable would just add to the sustainability," Erwin says.
In reviewing the entries, the judges suggested that the idea could be marketed to hotels that use small-size rigid containers that are discarded after people check out. If the team's packets were refillable, that feature would contribute to the circular economy on a much greater scale, they noted.
Erwin says he likes that suggestion and would likely incorporate the concept into any further marketing of the idea. Erwin and Boone say their teams did not pursue patents but think that maybe they should.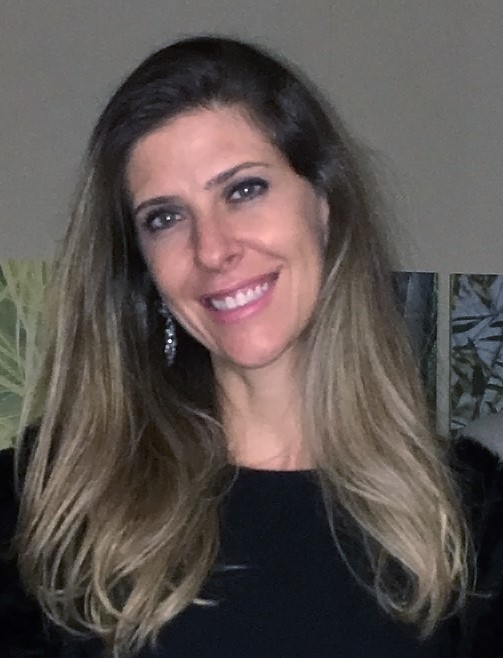 Jai Araujo at San José State University also won an honorable mention for her concept—Water for Runners. Araujo, who is working on her master's degree and will graduate this spring, says she has always been fascinated by packaging and often looks at how packages can be improved or otherwise help people. The individual water pouches can be worn over the wrist like a bracelet or the user can string pouches together in a long link because each pouch has a built-in connector, so the pouches could be slung over the shoulder like a crossbody bag.
"This is an easy way to drink, and you don't have to stop," she says. "In addition, one person can bring as many pouches as they wish."
She primarily was thinking of people who are active in sports, which is why she named it a water pouch for runners. The judges liked the idea but thought that it could be marketed in numerous other ways, especially if other drinks were used. For example, the pouches would eliminate the need to carry a cardboard cup carrier when someone is buying beverages at a concession stand at a concert or sports event. It also would free up the hands to carry other things, the judges noted.
Araujo says she didn't consider other products for her prototype but thought that the numerous possibilities could be something worth pursuing.
Another honorable mention went to Boone's team that created a popcorn package in the shape of a square bowl, rather than the typical bag that requires users to stick their hands deep into the bag to get the popcorn. The group's prototype also included a peel-back lid—similar to what is used with cookie packages that use flexible packaging—that would be resealable.
"The main thing we were trying to do was to come up with ideas based on how we use packaging or things that bother us when using it," Boone says. "So, we thought about how sticking your whole hand into a popcorn bag gets a little annoying and messy."
The bowl-like structure would be made of an aluminum foil material, which would mean that the popcorn would have to be already popped and would not work in a microwave, Boone adds. The judges liked the concept and thought it was worthy of an award. But they also wondered whether it could be developed for microwave popcorn, which would make it more appealing to consumers.
Boone thought that observation was a good one and that, if the design could be developed for microwave use, it would be a better concept.
"Our thought was already-popped popcorn, and I am not sure if the seal would work in the microwave, but that could be expanded upon," Boone says.
Although his team won two awards, Erwin says, the one idea that he thought was best did not win. It was for a dissolvable plastic film that would contain the contents of a flavored drink. When users went to mix their drink, they could just put the packet in a bottle of water and shake it up.
"So, instead of ripping open a packet and pouring the contents in, you have a packet that you can drop in a bottle of water and shake it up, and then you can just drink right out of it," he says.
Erwin acknowledges that there were logistical problems. Because the packets would be dissolvable in water, that would mean moisture might get into the larger containers holding the individual packets and destroy the packets before they could be used. "So, you would have to have a way to keep moisture from getting to the flavor packets," he says.
The judges pointed out that there would be another hurdle with consumers. A lot of people might be reluctant to drink anything that came from a plastic film, even if it were technically edible. Erwin says that he tried to address that concern in advance with his defense of the idea that was submitted to the judges.
"I 100% agree that people would see plastic and think 'I don't want to drink plastic,'" he says. "If we can figure out some way to make it work, that's the idea that I was really rooting for. I thought hands down that was our best idea. It definitely could be something I would pursue later on."
Winning Offers Benefits
The prototypes were required in Boone's class and were graded—the team got A's—so the awards were an added boost. The awards will help with networking and resumes, Boone says.
"Winning, in general, is exciting," she says. "To hear the good news was better than what I was expecting."
The contest also revealed just how many different careers might be available in the industry.
"Flexible packaging is really looking like it will be the future of packaging. I wanted to get in on that while it is growing, so I can get a better understanding of it as it develops," Erwin says. "This competition was fantastic and very eye opening. It potentially helped me find out where I might want to go in the future with my career once I graduate. I look forward to seeing where it takes me."
---
Thomas A. Barstow is the senior editor at FlexPack Voice™.
---
Sidebar: Here is the list of winners of 2021 FPA Student Flexible Packaging Design Challenge
1st place winner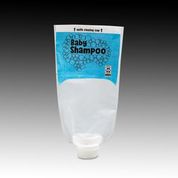 Prototype: Baby Shampoo and a Cup
School: University of Wisconsin-Stout
Students: Caylee Boone; Abbey Dahlseng; Liam Gallagher; and Anna Kent
Judge's Comments: "The judges felt that this a very innovative concept given the form and function of the design. It reduced the overall footprint of the shampoo package, would be considered easy to pack, and the cup functionality provided a unique feature and solved a need for the consumer. The judges also felt this would be operationally feasible."
2nd Place winner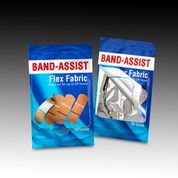 Prototype: Resealable Bandages
School: University of Wisconsin-Stout
Students: Connor Erwin; Corey Klatt; and Ben Lindgren
Judge's Comments: "This package, while not novel in the market, was a novel application. Currently, bandages are typically in a fiberboard box or a small rigid plastic container. Boxes are not highly functional, especially for traveling. Small plastic travel containers do not always stay closed. In either case, the bandages can become unusable. This pouch application was seen by the judges to be highly functional and solving a need for a better travel package for bandages."
Honorable Mentions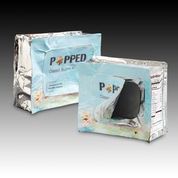 Prototype: Peelable and Resealable Popcorn Gusseted Pouch
School: University of Wisconsin-Stout
Students: Caylee Boone; Abbey Dahlseng; Liam Gallagher; and Anna Kent
Judge's Comments: "The judges voted for honorable mention for this package due to its application for popcorn and that it would provide an improved experience for the consumer for popcorn vs. the bags used today."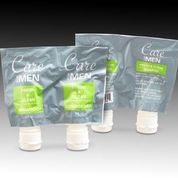 Prototype: Flexible Travel Shampoo and Conditioner
School: School: University of Wisconsin-Stout
Students: Connor Erwin; Corey Klatt; and Ben Lindgren
Judge's Comments: "The judges felt this application for travel shampoo and conditioner deserved an honorable mention for the re-closable feature and that it provided a solution to substitute for rigid plastic."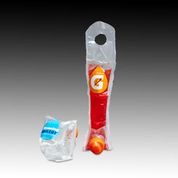 Prototype: Water for Runners
School: San José State University
Student: Jai Araujo
Judge's Comments: "The judges felt this submission deserved honorable mention due to its innovative 'interlocking' mechanism concept. While the judges felt that running with such a sash may be uncomfortable, the judges saw other applications for the pouches at festivals or hiking."
The Contest Judges
Jonathan Quinn, NOVA Chemicals, Inc., e-commerce packaging and shrink film market manager; co-chair, ELC
Adrianne Tipton, Novolex, chief technology officer; co-chair, ELC
Clayton Short, American Packaging Corporation, application engineer
Apurva Shah, Charter Next Generation, senior marketing manager
Evan Arnold, Glenroy, Inc., vice president of business development
Alana Carr, Hosokawa Alpine American, Inc., inside sales and marketing manager
Erik Gonring, Novolex, director of sustainability
Stacy Isonhood, Printpack, product development manager
Mathieu Jeanneau, St. Johns Packaging Ltd., vice president and chief operating officer
Simon Hermans, Südpack Oak Creek Corporation, marketing and sales director North America