Flexible packaging companies have long relied on producers along the Gulf Coast for supplies of polyethylene, one of the major ingredients in their production process.
This year, they will have a new source: A major petrochemical plant erected by Shell along the banks of the Ohio River in Beaver County, Pennsylvania—about 30 miles northwest of Pittsburgh. Representing an investment of about $6 billion, the plant is expected to produce 1.6 million tons of polyethylene per year, using ethane from shale gas producers in the Marcellus and Utica basins.
The Shell plant, which has been six years in the making, is coming online this year following steep and persistent challenges to the supply of polyethylene. The challenges drove up prices for much of 2021 and forced flexible packaging companies to adapt. "Outage scenarios and shortages are part of the reality of commodity markets, so it's best to prepare for the worst while hoping for the best," says Stanley Bikulege, chairman and CEO of Novolex, based in Hartsville, South Carolina. But, he adds, the winter storm that hit Texas in early 2021—called Winter Storm Uri—"was far and away the most challenging event in recent years, as it impacted the entire Gulf region and almost every polymer type we buy. And the freeze was a new climate consequence."
Executives in the flexible packaging industry expect the bottlenecks to be worked out over the course of this year. Nonetheless, the new source of polyethylene is a welcome new link to the beleaguered supply chain for polyethylene. "One of the most desirable elements of this asset will be its location," Bikulege says. "It is naturally out of traditional hurricane paths and will thus represent regional risk mitigation plans for buyers."
Location, Location, Location
It wasn't just the weather that brought Shell to western Pennsylvania. Based in the Netherlands, the company was drawn to the supply of low-cost natural gas found among shale deposits in the state, as well as in New York, Ohio, and West Virginia. The deposits made Pennsylvania one of the top producers of natural gas in the U.S., spurring companies to invest in the production of fuel and related products. The new plant also is closer to customers. Shell estimates that more than 70% of North American polyethylene customers are within a 700-mile radius of Pittsburgh.
"The plant's Pennsylvania location will provide Shell with a competitive advantage over Gulf Coast operators while providing customers with a shorter, more dependable supply chain," the company says on a website describing the plant.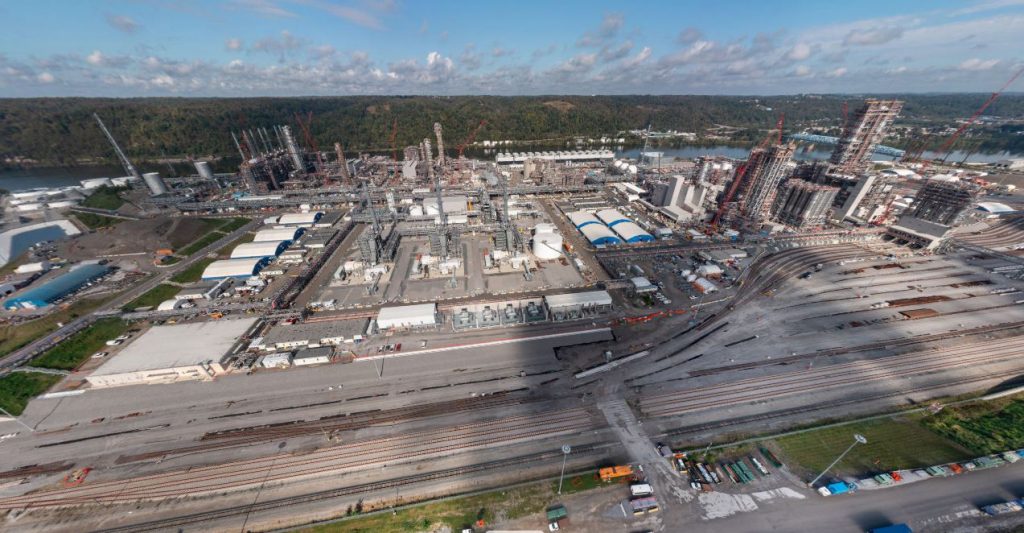 Dubbed the Pennsylvania Petrochemicals Complex, the plant consists of an ethylene cracker with a polyethylene derivatives unit. After a period of site preparation, construction began in earnest in 2017.
Over the last five years, the project employed thousands of workers, who filled local hotel rooms and packed restaurants in Beaver County, according to Helen Kissick, president and executive director of the Beaver County Chamber of Commerce. "It's been phenomenal to watch," says Kissick, who worked on the polyethylene team at NOVA Chemicals, Inc., before joining the chamber. She lives near the plant and passes it frequently.
Once it opens this year, the plant is expected to employ about 600 people and bolster the state and local tax base, according to an economic impact report pre-pared for Shell by the business school at Robert Morris University in Pittsburgh.
"It's a tremendous opportunity," says Kissick, who notes additional impacts to the community. For instance, Shell is active as a community member in and around Beaver County, volunteering company and personal time and resources for various charitable organizations and important causes. For example, a Shell executive has been a member of the board of directors for the chamber of commerce since 2017; Shell teamed up with local organizations such as a community college and the Pittsburgh Steelers football team to organize and staff food distributions; and it is donating excess equipment coming out of the construction phase of the project to local organizations. "Every park here in Beaver County is going to have picnic tables that came from the Shell construction site," she says.
The county economic development agency, mean-while, has been fielding inquiries from companies interested in locating near the Shell plant, she adds.
The new plant is firing up at the tail end of what have been tremendous challenges for the flexible packaging industry. The COVID-19 pandemic that began in early 2020 forced companies to adapt quickly to changes in how they did business and in the products that consumers were demanding. People ate out less and cooked more at home.
Demand for polyethylene first began to rise in mid-2020 after falling in April and May, which marked the height of COVID-19-related shutdowns, says Kristen Hays, a global market leader for research firm S&P Global Platts, based in Houston, Texas.
Supply took a hit in August and October 2020 when hurricanes temporarily knocked out several plants in Louisiana, Hays says. While supply had largely recovered by the beginning of 2021, high demand meant that inventories were thin.
Then came Winter Storm Uri in early 2021, which brought freezing temperatures to Texas and shut down traditional sources of polyethylene. Plants in the region were not prepared for the cold. "Nothing here is built to withstand more than 72 hours of below-freezing temperatures, and restarts were very slow once power was restored," Hays says. "Each plant had to check for leaks and cracks and stop to fix them. Some plants remained shut for weeks of repairs."
The shutdowns were followed by an uptick in demand as the U.S. economy began to rebound from the pandemic, which squeezed supply. The issue was exacerbated through the remainder of 2021 by labor shortages up and down the supply chain.
But it wasn't just workers that were hard to find. Shippers struggled to find enough truck chassis to carry containers, Hays says. And with cargo ships being diverted due to bottlenecks in Southern California, containers ended up in places that could not move them quickly to their next destination.
Other issues also weighed on the supply of polyethylene, Hays notes. Many plants, for example, deferred maintenance during the pandemic or had trouble finding contractors to do the work when they were ready for it.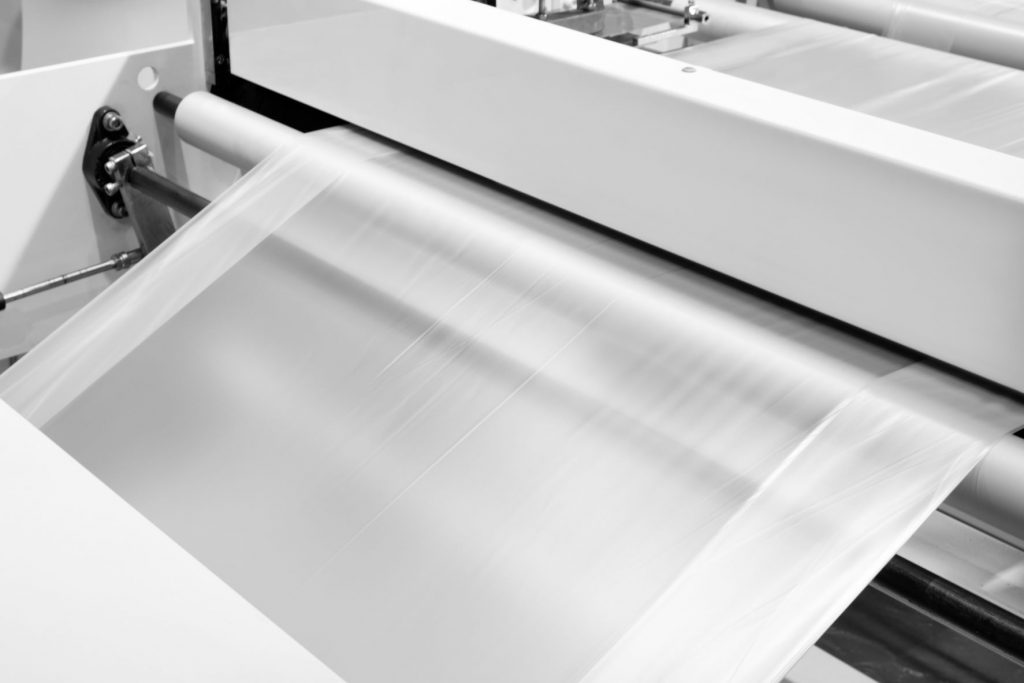 Prices spiked by double digits. For example, high-density blow-molding polyethylene—used in shampoo bottles and milk jugs—rose from $607 per metric ton in April 2020 to $1,819 per metric ton in August 2021, Hays says.
Flexible packaging companies responded in several ways. They diversified their suppliers as much as possible, and they found they were generally able to pass on the costs to customers. "The increases have been widely known and documented," says Dhuanne Dodrill, CEO of PAXXUS, Inc., based in Addison, Illinois.
"As a result, customers have not been surprised. Our pricing is designed to track with key indices, both up and down. In this case, the increases have been so rapid and significant, that the real challenge has been keeping pace with the changes."
PAXXUS, she adds, did face an additional hurdle when it came to finding alternative suppliers. The majority of the company's products are used in health care, which imposes strict demands on quality and consistency. "Changing from one supplier to another—or even shifting grades of resin—requires extensive testing and evaluation," she says. "When necessary, the Food and Drug Administration has been extremely helpful in accelerating the process."
PAXXUS also worked closely with its customers to understand their long-term needs and then work with suppliers to ensure a steady supply of products, Dodrill says. "We have been extremely successful in this process."
Berry Global relied on its global procurement scale to provide flexibility in its supply chain, says Curt Begle, president of heath, hygiene, and specialties at the company, which is based in Evansville, Indiana. Berry Global also worked with customers and suppliers to develop creative supply solutions. "In the case of the Texas freeze last year, we were successful in commissioning freight carriers to transport resin out of the affected region and to our facilities," he says.
Back to Normal?
Executives and industry observers are optimistic that 2022 could represent a return to stability, at least where supply chains for polyethylene are concerned.
"We expect that the supply of polyethylene will continue to improve in 2022," says Eric Smith, chief procurement officer at Charter Next Generation, based in Milton, Wisconsin. "Additional resin capacity is scheduled to come on line and alternate sources of supply will become available."
The overall market for polyethylene, he adds, should be strengthened by the addition of resin production outside the Gulf Coast, such as the supplies coming from the new Shell plant. "We are optimistic for the upcoming year," adds Begle, noting that Berry Global has been working closely with top management at Shell to access the company's complete grade slate of high-density and linear low-density polyethylene for use in manufacturing its products.
Converters near the Shell plant won't be the only beneficiaries, says Joel Morales, Jr., executive director of polyolefins Americas for research firm IHS Markit. The new supplies will generate more competition for all buyers of polyethylene.
And as a public company, Shell will sell polyethylene wherever it can get the best price, even if that means exporting it, Hays says. The new plant also will undergo planned maintenance shutdowns on occasion, she adds. "So, Gulf Coast resin will still travel to that region of the U.S. to feed converters—though perhaps not as much as it travels currently."
Regardless of the ultimate impact, flexible packaging companies see a lot more coming out of the last two years than just another source of polyethylene.
"Everyone in the value chain—up and downstream from us—learns every day from the latest events," Bikulege says. "Hopefully, we'll all be better prepared in the coming years."
---
Joel Berg is a freelance writer and editor based in York, Pennsylvania.