From scraped knees to heart-valve replacements, every day people depend upon health care and medical/surgical supplies safely delivered in sterile packaging. Yet, too often sterile packaging is taken for granted or overlooked.
"Sterile packaging is a silent hero," says Brandon Fisher, director of sales for PPC Flexible Packaging in Buffalo Grove, Illinois. "When we look at ensuring patient health and decreasing the transmission of bacteria, pathogens, and disease, sterile packaging is absolutely critical. It's truly a lifesaver."
PPC Flexible Packaging and other members of FPA's Sterilization Packaging Manufacturers Council (SPMC) have been working on initiatives to boost awareness, highlight successes, and acknowledge the medical professionals who rely on sterile packaging for patient care. To further those goals, the SPMC established the inaugural Sterile Packaging Day on March 10.
"If you look at packaging over the past 100 years or so," Fisher says, "you'll see that we have made incredible advancements in sterile packaging—and those advancements have a direct correlation to the decrease in surgical-site infections and other contaminations that, in the past, were running rampant."
With Sterile Packaging Day, the organizers also wanted to recognize the professionals who work with sterile packaging, "raising awareness of the value of sterile packaging and encouraging people to support health-care professionals and frontline workers," Fisher says.
Sterile packaging products touch 4 billion patient lives each year, says Dwane Hahn, chief strategy officer and VP of sales and marketing for PAXXUS, Inc., based in Addison, Illinois. "From at-home bandages to surgical tools in the OR, health care and sterile packaging impact people's lives daily," Hahn says. "We want to draw awareness to how important our niche is to the well-being of almost everyone on the planet. We also want to highlight frontline responders—the nurses, the doctors—and their use of the products that we make.
"It's also important that we connect our employees with the end-user. Even though we don't typically see the final product after the material leaves our facilities, our team is passionate about the impact we have on patients around the world," Hahn adds. "Our employees take great pride in knowing that our products protect many of the life-saving devices and therapies that are needed in routine and emergency health-care environments."
For Amy Stewart, product development manager with Atlanta-based Printpack Medical, creating a special day for recognition aligns perfectly with the company's core mission: "Create packaging that saves lives."
It also provides an opportunity to recognize both the global manufacturing associates who are a part of the supply chain and the essential workers in health care, Stewart says. "We celebrate everyone who makes patient safety their job." After all, Stewart points out, "All of us are patients, too."
Challenges Ahead
COVID-19 drove home that point dramatically last year as it spread from nation to nation, and the world's medical community—including sterile packaging manufacturers—responded. Now, as the worst wave of the virus has passed, packagers are working to apply the lessons learned from their pandemic response as they address future challenges.
Sterile packaging is not simply traditional packaging that has undergone sterilization. Items like simple boxes or Tyvek® sleeves require packagers to address a host of regulatory and scientific issues, many of which carry life-and-death consequences.
Consider some of the factors involved in producing one of the most common sterile packaging package types: the chevron pouch. Packagers must be mindful of stringent regulations and requirements governing seal strength, seal verifications, how many times the flexible material can go through sterilization without degrading, and more, Hahn says. "Each of these factors is critical," he says. "If we don't know what we're doing on our end, we ultimately put the patient at risk at the point of use."
In addition, manufacturers need to understand a variety of sterilization methods—including gamma radiation, high-heat autoclave, and ethylene oxide gas—and how each approach will affect a particular packaging material. "If gas is going to be used, we manufacturers have to know what materials will breathe and allow the gas to penetrate and then evacuate," Hahn explains. "If the customer is autoclaving, the packaging materials have to be able to handle high heat. There are factors [related to packaging materials]—like peel strength—that can change before and after sterilization. That's all our responsibility. Designing a successful sterile packaging system means understanding details throughout the entire product journey."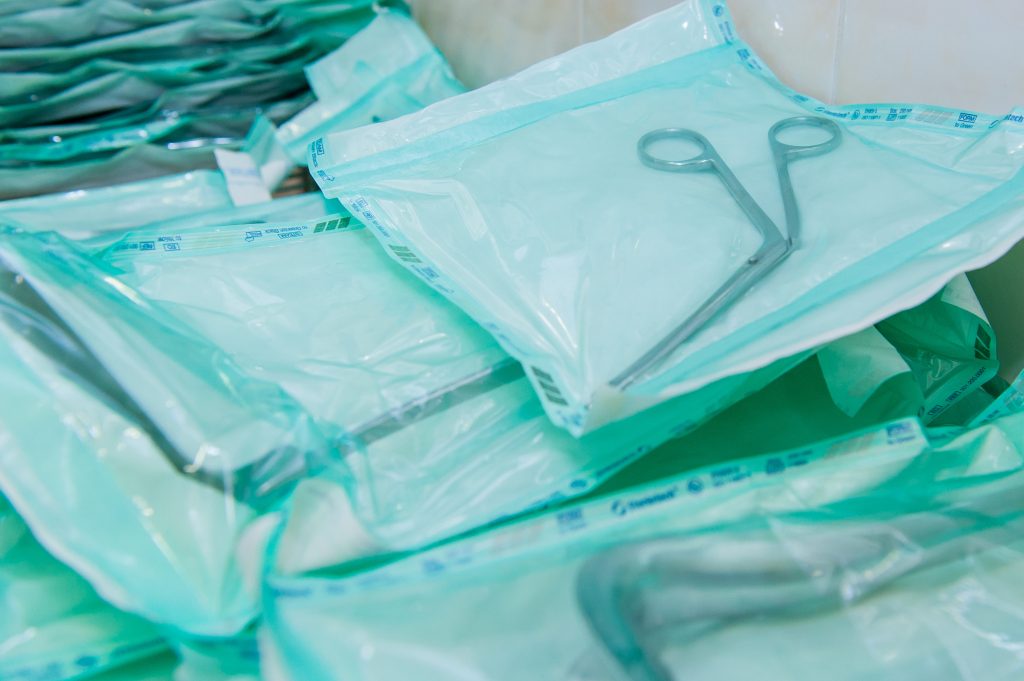 The challenges even extend beyond the packaging itself. Shopping around for a new supplier comes with hurdles specific to sterile packaging. Unlike other packagers, sterile packaging manufacturers cannot simply or quickly change suppliers if there are sourcing issues. "Say we are using a standard two-mil, low-density polyethylene as a sealant in a foil lamination," Hahn says as an example. "If we have been validated in that specific sealant from a specific supplier, we might have been using that supplier for 15 years. If all of a sudden they can't supply that sealant, we can't just substitute another supplier. That's not permitted within health care packaging. Without considerable testing and validation, there is no way to know all the different ingredients involved and the impact they may have on puncture resistance or sealability or other performance-related features. Changing one component in the packaging material could impact validation studies and biocompatibility studies that have been done to verify efficacy and safety for the device."
Finally, Hahn cautions that many companies new to sterile packaging may not be prepared for the extended development times needed for regulatory compliance and FDA approvals. "Our sales cycle is two to three years, due to the nature of the regulatory environment," he says. "Innovation can be extremely slow and sometimes challenging."
Embracing the Opportunities
Because of these unique challenges, serving the sterile packaging market presents a higher barrier to entry for suppliers when compared to other markets, Stewart notes. "There may be more challenges for smaller or less-experienced organizations who are considering getting into sterile packaging," she says.
Rather than view regulatory requirements as a negative, though, Stewart believes they offer an abundance of guidance for any companies that want to expand their technical expertise and establish themselves in sterile packaging.
In addition, a wealth of industry information is available through FPA's SPMC. The SPMC is led by Ram K. Singhal, FPA's vice president of technology and environmental strategy, who coordinates the research behind the council.
Without interfering with competition, the council explores manufacturing best practices, publishes white papers, and establishes test methodologies for standardization to ensure patient health.
Stewart also recommends that firms get involved in the Institute of Packaging Professionals (IoPP), where she currently chairs the Medical Device Packaging Technical Committee. "If you commit to getting into this business, resources are available," she says.
Growing Forward
Hahn points out that no one could have predicted the impacts from COVID-19.
"The pandemic changed the demand for certain products, so many companies had to pivot and change what they were manufacturing," Hahn says. For example, like many of its peers, PAXXUS saw a decrease in orders for elective-surgery packaging. But because the company also manufactures packaging used in COVID-19 diagnostic test kits, "Our manufacturing facilities around the world shifted to support the new demand."
The company's ability to pivot in response to a sudden shifting market underscored the value of business continuity going forward. "Customers want to know that we can make the products they need in more than one location," Hahn says.
This kind of flexible infrastructure is particularly important in light of how supply chains and distribution channels were disrupted due to the pandemic. "Prior to COVID, we typically had a four-week lead time to bring a particular material from Europe or Asia to our plants in Chicago," Hahn says. Due to 2020's import restrictions, shipping quarantines, and transportation delays, he saw that lead time stretch to up to 11 weeks. "Those situations have put a huge emphasis on business-continuity plans and more regionalized sources. It's imperative that we have the capabilities to produce products in different locations to support our customers around the world. The more control a manufacturer has over all of their manufacturing processes and raw ingredients, the better," Hahn notes.
At PPC Flexible Packaging, the pandemic has confirmed the value of the company's expansion into cleanroom environments, which deliver benefits that sterilization alone cannot provide. "Some people assume that sterility and cleanliness mean the same thing," Fisher says, "but there is a difference. Sterility, being aseptic, means that the product is inert; it's gone through a sterilization process using gamma radiation, autoclave steam sterilization at high temperatures, or ethylene oxide. Cleanliness refers to particulate matter on the product itself. Achieving cleanliness means establishing a cleanroom, filtering the atmosphere. The goal is to bring particulates down to an acceptable number, to ensure that there are fewer leachables, extractables, and dirt particulates on the product being packaged.
"For a long time, certified cleanrooms were distinct to certain markets, like semi-conductor packaging. But in recent years they have become more important in medical device, orthopedics, and pharmaceutical packaging. I would forecast that to be a growing market."
"In terms of the market space itself," Fisher continues, "I see a very bright horizon—especially as we see baby boomers going into retirement and increases in life longevity. There is a lot of innovation in the field, across the board—whether it be pharmaceuticals, orthopedics, or organ-transfer chambers."
---
Robert Bittner is a Michigan-based freelance journalist and author.