One person slices the bread. Another packages each slice.
The arduous process at The Women's Bakery (TWB) consumed time, but it also inspired an innovation. Now, a mechanical slicer puts each slice on an angled metal plate, and the packager slips the packaging over the bread, like wrapping a lollipop.
Today, TWB cites packaging as a major pain point, in large part due to a Rwandan ban on single-use plastic bags, despite a lack of viable alternatives.
Founding a Social Enterprise
Markey Culver calls herself an "accidental entrepreneur." The founder of TWB is a native Missourian who first went to Rwanda in 2010 as a Peace Corps volunteer teaching English and health. Embedded in the community, she ate raw salad greens for lunch—a concept that drew feigned horror from local women but also curiosity. She used the opportunity to start teaching nutrition. One day, she made bread—a first for her in a makeshift dutch oven.
That's when the women lost all interest in salads. As they learned to make bread, Culver noticed that they immediately gave it to their children, whose distended bellies underscored their hunger and malnutrition. "I thought, 'Oh, my gosh. Of course, these women are the conduits to their babies,'" says Culver, who is scheduled to share the TWB story and its packaging challenges at the Flexible Packaging Association (FPA) 2022 Annual Meeting, March 23–25, in Bonita Springs, Florida. "I thought if we pumped this bread full of nutrients and healthy fat, this might be a really great way to give kids a healthy snack."
Then Culver discovered that some women were selling their bread, demonstrating demand for the product. That was the beginning of TWB, a small social venture capital firm with big dreams.
Today, TWB operates three bakeries in Rwanda and is building another. A 60-women workforce includes many widows and single mothers. It's a country where women hold a high percentage of Parliament seats, but where parents spend their limited resources for education first on boys. If there's no money left, girls get little or no formal schooling.
At TWB, the women bakers make bread fortified with locally produced flour, vegetables, fruit, and nuts. Participants—chosen for their motivation to provide for themselves and their families, regardless of educational attainment—pursue a nationally accredited educational program, with more than 200 training hours that culminate in the equivalent of a U.S. vocational degree. Their income typically rises to $1,000 a year, up from $50. In most cases, the women use the money to pay school fees for their children. "If a woman has enough money to send all of her kids to school, then all of her kids go to school," Culver says. "It's got this ripple effect. It's what she's investing in."
Culver formally established TWB in 2014 as a hybrid—a nonprofit, U.S.-based parent company that wholly owns a for-profit subsidiary in Rwanda. The nonprofit side injects capital into the bakeries until they can be self-sustaining, with the profits financing construction of new bakeries.
FPA President and CEO Alison Keane heard about TWB's packaging plight and thought FPA members might be able to help and possibly donate to the cause. Inviting Culver to present at FPA's March meeting opened an opportunity for members to learn more about their shared challenges and to reflect on packaging as a global product with local impact.
"Flexible packaging has a large market share in food, and food is one of the products that is most subject to spoilage," Keane says. "Food waste contributes globally to climate change as it emits methane, which is one of the primary greenhouse gasses. FPA members often say that we can feed the world and end hunger if we could get the food to the people who need it unspoiled. Packaging plays a critical role in that delivery."
The Packaging Squeeze
When Kariuki joined TWB as operations director last July, she brought 20 years of experience in sales and establishing facilities for major bakeries. Approached by TWB, she uprooted herself and her daughter from Nairobi just to be part of the enterprise and its mission.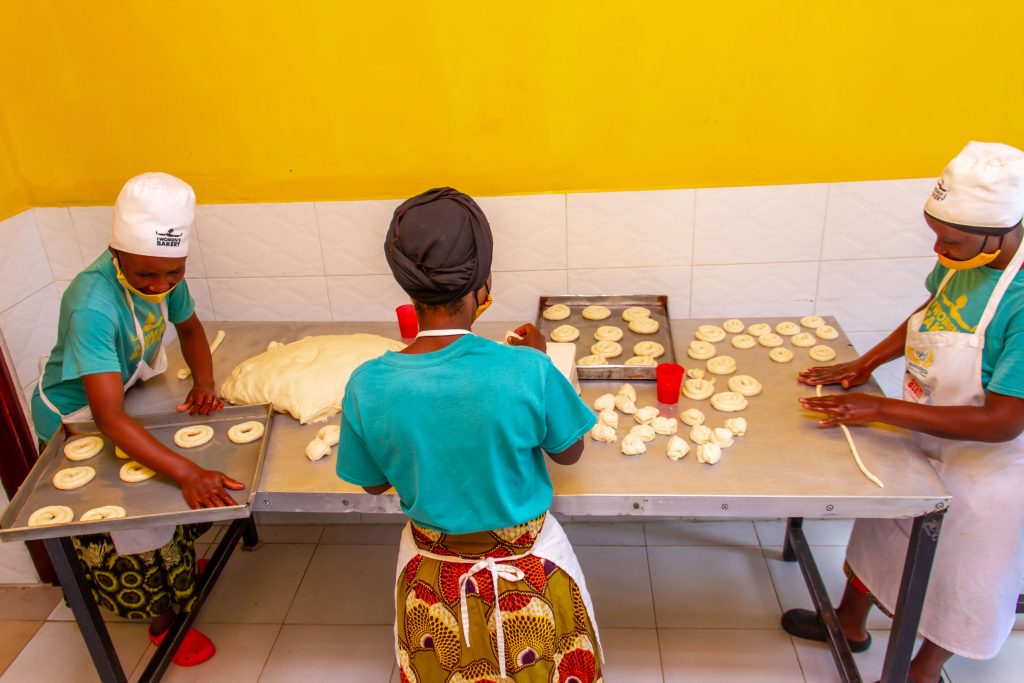 Her goal is to infuse the social enterprise with a business mindset and profitability. The ability of TWB's women bakers to produce quality products with minimal modern equipment—especially the lack of a proofer to automate the process of bread rising—"baffled and amazed" her.
"I was very inspired and very humbled," Kariuki says. "I thought that if we've been doing this with so little, we can do a whole lot more."
TWB's protein-packed bread is designed to be affordable, nutritious, and mobile. Rwandans can carry their TWB rolls, twists, and slices into the fields they farm. "We have not saturated Rwanda at all," Culver says. "We are so small in the grand scheme of things, which is great, because we can only grow."
But at the moment, TWB is confronting a perfect storm. Demand is surging as Rwandan schools have reopened, but breadmaking equipment is breaking down. Replacement equipment, unavailable in Rwanda, must be imported. The process is slow, and it triggers a 50% tax. "We originally bought second-hand equipment from China," Culver says. "We now see the value in purchasing new or guaranteed equipment."
Plastic Ban
In tandem with the equipment conundrum, packaging has become a pain point. Rwanda banned plastic bags in 2008. In 2020, it banned all single-use plastics, which included almost all food packaging. And yet, says Culver, "there is absolutely no alternative."
Wax paper is a poor substitute because the bread goes stale too quickly for Rwandan consumers, who prefer oft breads. Even plastic-lined wax paper falls afoul of the government's plastic ban. The only compliant solution, Culver is told by government officials, is home- compostable packaging, and it can't be found within Rwanda. "I know it exists in the United States," Culver says. "I don't know if it's food safe. We have no options."
TWB represents a microcosm of the packaging industry's drive for continuous innovation in sustain-ability and the universal challenge of keeping pace with recycling mandates, Keane says.
"The challenges of TWB show the lack of knowledge about the importance of packaging, in general, and plastic packaging, in particular," she says. "While we are and will continue to innovate to produce packaging that is more sustainable, the real environmental and health consequence of Rwanda's plastic packaging ban is that packaging that has a larger carbon footprint, but not the same 'shelf ' stability to keep the food fresh, is being used. Thus, food cannot get to those who need it, and the environmental footprint is now worse."
FPA continues to address packaging circularity and collection, sortation, and recycling or proper disposal, "so that it does not become litter or marine debris," Keane adds. "But frankly, if you ban the top 10 things found in the environment, the next 10 rise to the top.
Waste management infrastructure is the key to ending that vicious cycle, and home compostability is certainly one way to solve it."
High Costs
At the bakery, high costs are another packaging challenge. Larger competing bakeries can buy in bulk or import their packaging. TWB has only a few Rwandan-licensed suppliers to choose from, and for each pack-aged product, packaging constitutes nearly 25% of the cost. Increasing prices to cover costs is not an option, especially because TWB bread costs more because of its healthy ingredients.
"I have to balance that this is a social enterprise," Kariuki says. "At another company, if packaging is high, they can increase prices. But that's not the goal of a women's enterprise. A women's enterprise is meant to keep this bread affordable. For the vulnerable community that we target, the bread is expensive to them."
To solve the recyclability dilemma, Culver dreams of enticing a manufacturer of home-compostable, food-safe packaging to build a plant in Rwanda, serving the needs of TWB and a nation of businesses hungry for alternatives.
That dream is in the distance. In the short term, importing packaging remains impractical due to the outsized costs. And, if materials are donated, there are the realities of accepting donations. "How long is that donation runway?" Culver says. "If we're trying to design this on a business model, we've created some-thing false in our supply chain. At some point, it's going to run out."
However, donations could have an upside. Packaging donated for a certain period—say, five years—buys time while Rwandans search for a solution.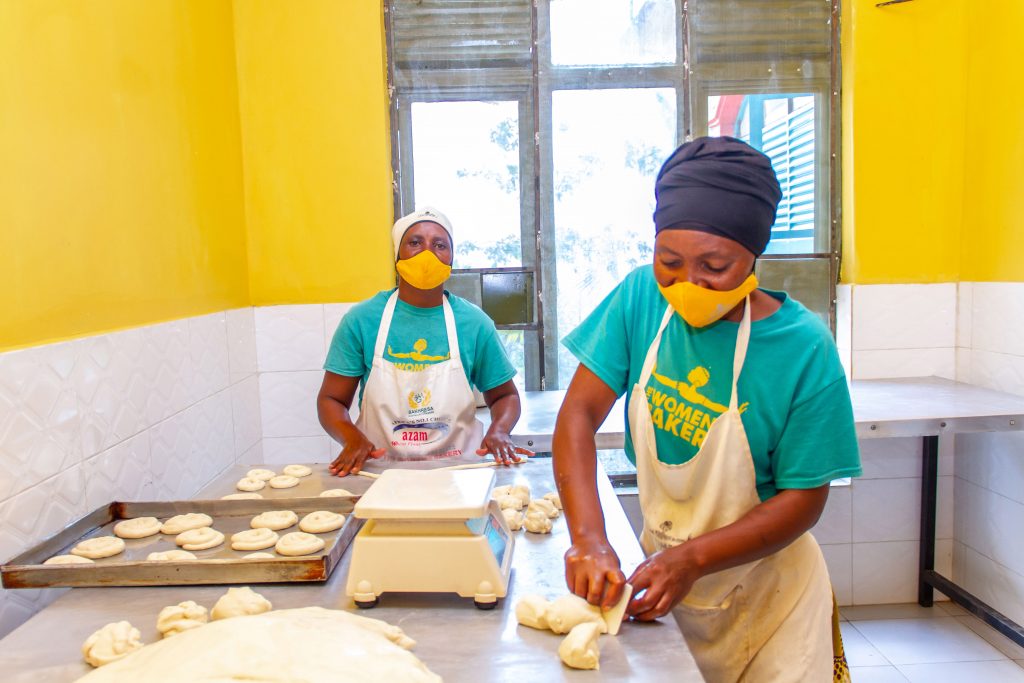 Packaging limitations have forced some creative solutions. TWB sells rolls five or 10 to a package. Bread sold to schools is delivered in bins, each piece unwrapped and handed out by a staff person wearing gloves. That solution works for institutions, "but to sell to individual consumers, we don't have this advantage," Kariuki says.
Even social enterprises have to market their products and catch the eyes of consumers. One of TWB's specialties is a beautiful round bread, but putting it in a rectangular package diminishes the presentation. "It's so frustrating because I can envision it and see how it would work great—how it would stand out on the shelves," Kariuki says.
While the equipment problem is a top priority, Culver agrees that packaging "is such a pain point." Even a small café accompanying TWB's Kigali bakery had to be closed to create space for the hand-packaging part of operations. "We have maxed out our capabilities," Culver says. "We are packaging by hand, and it takes hours. I would love to buy packaging equipment, but I don't know how to support something like that, and I don't know what we need."
Achieving Scale
TWB's five-year strategic plan ramps up steeply, with the construction of 10 bakeries employing a total of 100 women and selling a cumulative 10 million units of bread a day. The long-range vision aims for becoming the top bakery network in East Africa and the entire continent, with worldwide ambitions.
"The model can be globally relevant," Culver says. "It's something that could work in the U.S. Right now, it is a business that was born in Rwanda, so growing it from Rwanda and into East Africa makes sense."
In the meantime, a social impact officer analyzes data to track internal and external outcomes. A large, multi-year survey of schools is testing whether a daily piece of nutritious bread makes a difference in the lives of children. Culver is confident in positive results. "If you have no food and suddenly you have food, does that make your school experience better? Yes," she says. Armed with that impact data, TWB plans to seek government contracts that would—by eliminating the need to discount the bread sold to schools—support profitability and the establishment of more bakeries.
Kariuki is strategizing to achieve profitability in 2022 while improving efficiencies and reducing costs, especially for the two biggest cost drivers—flour and packaging. If the global packaging community could help by sharing information, technology, or equipment, that would be a bonus.
"We have reached new levels in terms of technology and efficiency," Kariuki says. "We are definitely not where other companies are, but we are having the same challenges."
And while TWB confronts its challenges, its women bakers are finding the power to overcome their own. They are feeding and educating their children, and they are doing it by "working together with smiles and chatting," Kariuki says.
"That has been very inspiring, and I'm looking forward to helping the organization and empowering more women," she adds. "I want to see more happy women working together and smiling."
---
M. Diane McCormick is a freelance writer and editor based in Harrisburg, Pennsylvania.