Like so much else in the economy, corporate deal-making roared back to life in 2021 as COVID-19 vaccines blunted the worst effects of the pandemic and companies adapted to the risks that remained.
The flexible packaging industry was no exception. During the first 10 months of 2021, industry players notched 56 deals, more than three times the 17 deals that took place during the same period in 2020, according to PMCF Investment Bank, which produces monthly reports on M&A in packaging.
Some companies made several acquisitions in 2021, including Cincinnati-based ProAmpac, Illinois-based PPC Flexible Packaging, and Pennsylvania-based C-P Flexible Packaging.
Activity is expected to remain brisk this year for a variety of reasons: Low interest rates, the need for companies to achieve greater scale, and the growing interest of private equity firms in the flexible packaging industry.
Companies also are eager to add talent and resources that can help them meet ambitious goals for sustainability. Many top consumer brands are aiming for totally recyclable packaging by 2025. "I think this will probably be the biggest driving factor for M&As over the next couple of years," says Evan Arnold, vice president of business development for Glenroy, Inc., based in Menomonee Falls, Wisconsin. "You will see companies buying up new technologies and innovative patents and processes that will aid in the recyclability of films and flexibles."
A Pandemic Dip
M&A activity in flexible packaging had been on the rise before COVID-19 struck, according to a 2021 state of the industry report produced by the Flexible Packaging Association (FPA). While dealmakers were relatively quiet for most of 2020, a recovery in M&A began gaining steam before the year was over.
According to the state of the industry report, there were 40 M&A deals in 2020, up from 29 in 2019. But nearly half the 2020 deals took place in the fourth quarter, and they were mostly smaller companies. After 2020's end-of-year flurry, the top 10 flexible packaging companies accounted for 62% of the industry's total revenue, a bit higher than 2019, when the top 10 companies contributed 59% share.
Interest in M&A is growing across the industry. Nearly three-quarters (71%) of flexible packaging companies are contemplating an acquisition over the next three to five years, according to the 2021 state of the industry report, up from 50% in the 2020 report.
"I think the continuing growth of the industry will keep driving M&A, both on the converter side and the supplier side, as companies look to add scale to their organizations, get more competitive, and get closer to their customers," Arnold says.
Acquisitions also can be a source of growth at a time when organic growth is harder to come by, says Frank Papa, senior partner at CORE Industrial Partners, a Chicago-based private equity firm that has been active in the flexible packaging industry.
The supply chain challenges of the last year won't be far from the minds of companies weighing acquisitions. "Another determining factor is the benefit of having multiple plants in different geographical areas," Papa says. "Having multiple plants could help navigate volatility in supply chain and labor dynamics."
Private Equity
The ups and downs of the M&A market have done little to slow the tide of private equity interest in the flexible packaging industry.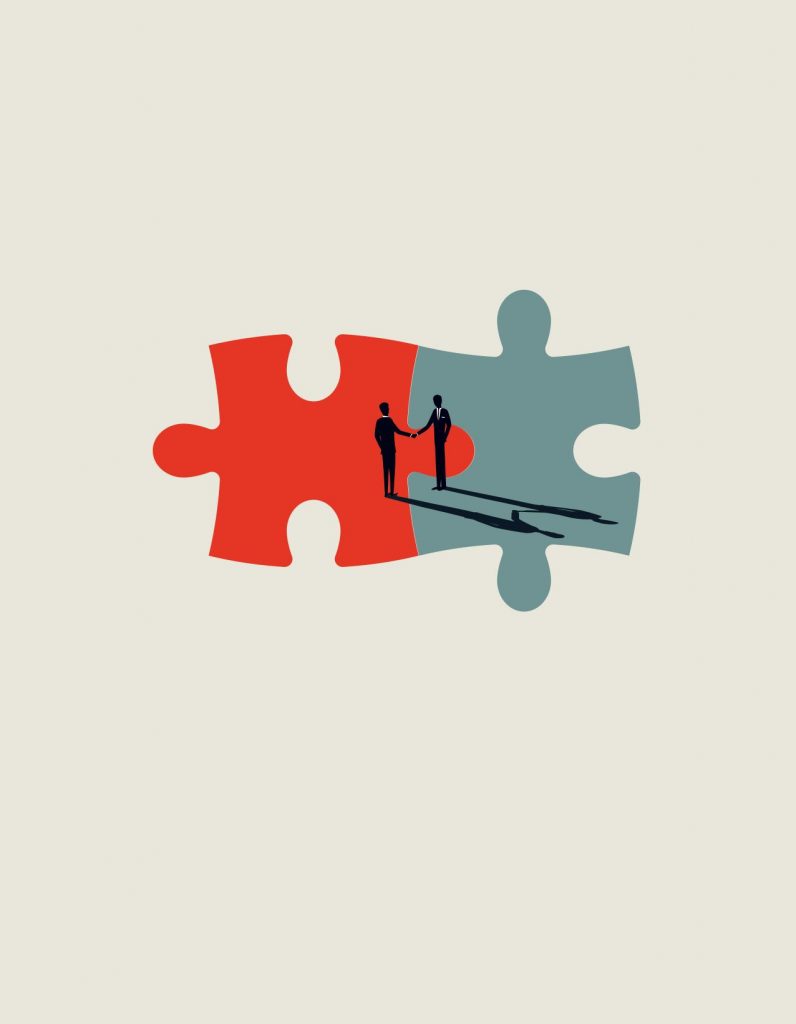 CORE Industrial was one of six new private equity names on the industry's buy side in 2020, according to the state of the industry report. The others were Auxo Investment Partners, Gryphon Investors, New Mountain Capital, Sole Source Capital LLC, and Tenex Capital Management.
Private equity firms often buy midsized companies intending to build them into national players. That has been CORE Industrial's aim since buying TCG Legacy in October 2020 and then adding MedLit Graphics to the TCG platform in July 2021. TCG is a marketing solutions provider specializing in pharmaceutical printing and packaging. "The company's deep industry experience, turnkey marketing solutions, and highly attractive end markets are all notable differentiators," Papa says. "We're excited to partner with the company's management team to execute on a variety of exciting value creation opportunities and accelerate TCG Legacy's growth."
Here are some of the notable deals of 2021, as compiled by PMCF Investment Bank and other research. Except where indicated, terms were not disclosed.
January
In the first of several deals for the company, Cincinnati-based ProAmpac buys Rapid Action Packaging, a U.K.-based company that makes cellulose-based packaging for fresh prepared and ready-to-eat foods. Rapid Action had been owned by Ludgate, a British investment firm.
ProAmpac is owned by Pritzker Private Capital, along with management and other co-investors.
California-based Avery Dennison pays $87.6 million for ACPO Ltd., an Ohio-based company that makes pressure-sensitive overlaminate products for the label and flexible packaging markets.
February
Revolution, a sustainable packaging company based in Little Rock, Arkansas, buys Jadcore LLC. Based in Terre Haute, Indiana, Jadcore is a manufacturer focused on recapturing and recycling post-industrial plastic waste. The company also makes can liners and specialty bags. Revolution is owned by Arsenal Capital Partners, a New York-based private equity firm.
An affiliate of Texas-based private equity firm Peak Rock Capital acquires AMB S.p.A, a manufacturer of rigid and flexible films for use in food packaging. The company is based in Italy but has operations across Europe.
March
ProAmpac snags two companies in the United Kingdom that make recyclable packaging products. IG Industries makes polyethylene-based films, while Brayford Plastics makes polyethylene-based films and bags.
California-based recycling company PreZero US Inc. buys Roplast Industries Inc., a polyethylene film and bag manufacturer also based in California. PreZero, which has more than 4,800 employees at 140 locations in Europe and North America, specializes in waste and recycling management. The company says it hopes eventually to produce up to 15 million pounds of low-density polyethylene per year in the form of PCR content for films and bags.
April
ProAmpac buys El Dorado Packaging. Based in Omaha, Nebraska, El Dorado makes customized paper-based packaging and printing solutions for the retail and industrial markets.
New York-based Brook and Whittle Holding Corp. acquires Digital Label Solutions, a Yorba Linda, California-based digital printer of complex pressure-sensitive and shrink-sleeve labels. Brook and Whittle, owned by private equity firm Snow Phipps Group LLC, is in the same business. Digital Label is the seventh acquisition by Brook and Whittle since Snow Phipps' initial investment in fall 2017.
European packaging company Coveris buys Initial Packaging Ltd., which makes protective, tamper- evident, and customized bags.
May
PPC Flexible Packaging, based in Buffalo Grove, Illinois, buys Target Labels and Packaging LLC. Based in North Salt Lake, Utah, Target makes flexographic and digitally printed, laminated, and converted packaging labels, rollstock, and pouches.
Resource Label Group, based in Franklin, Tennessee, buys Cypress MultiGraphics, which makes durable labels. Resource is owned by New York-based First Atlantic Capital and California-based TPG Growth.
June
LongueVue Capital, a private equity firm in New Orleans, recapitalizes Traco Manufacturing LLC, which makes labels and other products for flexible packaging. Traco is based in Orem, Utah. "Traco sits in a very exciting, high-growth market bolstered by robust tailwinds including an increased focus on specialized packaging as a brand differentiator," says John McNamara, LongueVue founder and managing partner, in a statement. "We see Traco as the perfect platform to capitalize on these trends and grow both organically and through synergistic acquisitions."
Alpharetta, Georgia-based Spectrum Plastics Group buys KCS Plastics Ltd. Based in Langley, British Columbia, KCS provides polyethylene packaging solutions and enhances Spectrum's role as a flexible packaging supplier.
Soteria Flexibles, based in Carol Stream, Illinois, wraps up its acquisition of Redi-Bag Inc. Based in Tukwila, Washington, Redi-Bag makes polyethylene film and plastic packaging, with a focus on seafood and produce packaging.
July
Toppan, a Japanese conglomerate with a packaging business, acquires InterFlex Group, a flexible packaging converter based in Wilkesboro, North Carolina. Founded in 1975, InterFlex has plants in the U.S. and U.K.
Novolex, based in Hartsville, South Carolina, buys Flexo Converters USA Inc., a maker of stock, custom, and recycled paper bags. Founded in 1994, Flexo is based in Meriden, Connecticut. Novolex is a portfolio company of Washington, D.C.-based investment firm The Carlyle Group.
August
Dallas-based Inovar Packaging Group completes the acquisition of Precision Label Inc. in Oceanside, California. Precision Label is Inovar's sixth acquisition.
Novolex purchases Vegware, a provider of compostable foodservice packaging based in Scotland. Novolex plans to continue using the Vegware brand, which is sold in more than 70 countries.
York, Pennsylvania-based C-P Flexible Packaging acquires Prestige-Pak, a Wisconsin-based manufacturer focused on printed packaging films for retail food markets. C-P Flexible is owned by First Atlantic Capital.
Revolution buys Five Points Film. Based in Shelbyville, Tennessee, Five Points casts hand and machine stretch film for commercial customers. Revolution focuses on recycled packaging in a variety of formats, including trash can liners, carryout bags, and construction films.
Investment firm Sole Source Capital LLC acquires I.D. Images. Based in Brunswick, Ohio, I.D. Images offers custom and stock product-identification labels to distributors, value-added resellers, and label converters and printers. "We selected product identification labels late last year as a thematic beneficiary of supply chain digitization, e-commerce, and rising traceability requirements in the food and health care sector," says David Fredston, Sole Source's founder and CEO, in a statement. "We are excited to partner with IDI to provide significant capital and integration expertise as the company executes its buy-and-build strategy within this highly fragmented industry."
Tekni-Plex, a packaging company based in Wayne, Pennsylvania, buys M-Industries LLC, a Michigan-based company that specializes in container vented lining technology.
September
PPC Flexible Packaging notches another deal with the acquisition of Consumer Packaging Group, based in Hartland, Wisconsin. Founded in 2006, Consumer Packaging Group provides finished prototype solutions in consumer packaging markets, a specialty that PPC hopes to capitalize on. The deal is PPC's eighth in a period of four-and-a-half years.
Tekni-Plex acquires Keyes Packaging Group. Based in Wenatchee, Washington, Keyes Packaging makes environmentally friendly packaging for the food and beverage industry. The company had been owned by Arbor Investments, a private equity firm with offices in Chicago and New York.
October
Chicago-based private equity firm GTCR buys PPC Flexible Packaging. GCTR indicated that PPC would continue to be an acquirer. "We look forward to being partners with the PPC team and continuing their successful consolidation of high-quality flexible packaging companies," says GTCR managing director David Donnini in a statement.
C-P Flexible acquires Sycamore Sales, a Norcross, Georgia-based company that does business as Preferred Packaging. Preferred Packaging makes multilayer flexible films and thermoformed containers, and is a supplier of tray sealing equipment.
November
Pacur LLC, a specialty packaging materials supplier in Oshkosh, Wisconsin, purchases CAROLEX SAS, a polyethylene terephthalate glycol sheet extruder based in France. Pacur is a leading supplier of PETG sheets. San Francisco-based Gryphon Investors bought a stake in Pacur in February 2020.
TC Transcontinental Inc., based in Canada, acquires H.S. Crocker Inc., a manufacturer of die-cut lids for the food industry and labels for pharmaceuticals. Crocker operates plants in Huntley, Illinois, and Exton, Pennsylvania. The deal is TC Transcontinental's ninth flexible packaging acquisition since it entered the industry in 2014.
December
Chicago-based Selig Group buys Manufacture Générale de Joints, a Lyon, France-based manufacturer of foam-based liners. Selig, which is owned by holding company CC Industries, provides container sealing and venting solutions for food, beverage, pharmaceutical, and other applications, as well as flexible packaging products in Europe.
Duraco Specialty Tapes, which is based in Forest Park, Illinois, makes two acquisitions: 3 Sigma, a provider of pressure-sensitive products and specialty coatings to flexible packaging and other industries; and Rayven Inc., a developer and manufacturer of coated functional films, specialty tapes, and release liners for markets that include flexible packaging. Duraco is owned by OpenGate Capital, a private equity firm with offices in Los Angeles and Paris.
Gamut Capital Management, a New York-based private equity firm, buys Davis-Standard LLC. Based in Pawcatuk, Connecticut, Davis-Standard makes extrusion and converting systems, as well as aftermarket products and services for flexible packaging and other industries. Davis-Standard had been owned by ONCAP, a private equity platform created by Onex, a Toronto-based firm.
---
Joel Berg is a freelance writer and editor based in York, Pennsylvania.