Without reliable information about COVID-19's impact on daily life and spending habits, strategic planning becomes challenging for flexible packaging manufacturers hoping to make inroads in, perhaps, Turkey, France, Brazil, or China.
That is where the Flexible Packaging Market Tracker can come in handy, offering glimpses into shifting global markets. During the pandemic, the Market Tracker has been monitoring the impact of the pandemic on GDP, key retail sectors, and flexible packaging in 20 countries around the globe. And Euromonitor International, which developed the tool along with the Flexible Packaging Association, is updating the COVID-19 data quarterly. The overall tool, which is updated annually, has been available to FPA members since 2018.
"If you're in the U.S., you're looking in the newspaper every day and seeing these numbers, but here's a way to get these numbers that are consistent across the methodology for all these different countries," says Devorah Kaufman, senior account manager for business intelligence services at Euromonitor International.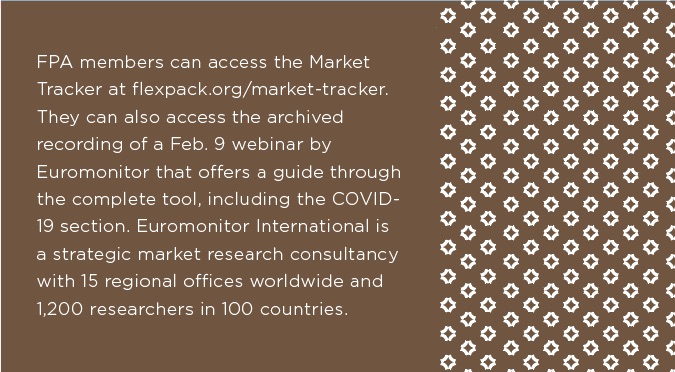 The online tool empowers users to examine such questions as "what are the major potential export countries for flexible packaging manufacturers in the U.S.?" Kaufman says. "How could FPA members get more information about these countries where they might be doing business or might be interested in doing business in the future, whether it's exporting or setting up a factory?"
Example of Insights
The addition of COVID-19 information provides views into the pandemic's impact, plus data-driven, research-based forecasts.
In August 2020, China was nine months into the COVID-19 outbreak that originated within its borders. European nations were seven months into the outbreak. The U.S. was five months in, from an economic standpoint, since the sudden shutdowns of that March. Euromonitor added a COVID-19 section to the Market Tracker in August of 2020. Visible through a bright red tab on the main menu, the COVID-19 entries provide information that helps guide decision-making—even as the ground often seems to be shifting. The section is updated quarterly to keep current with changing conditions.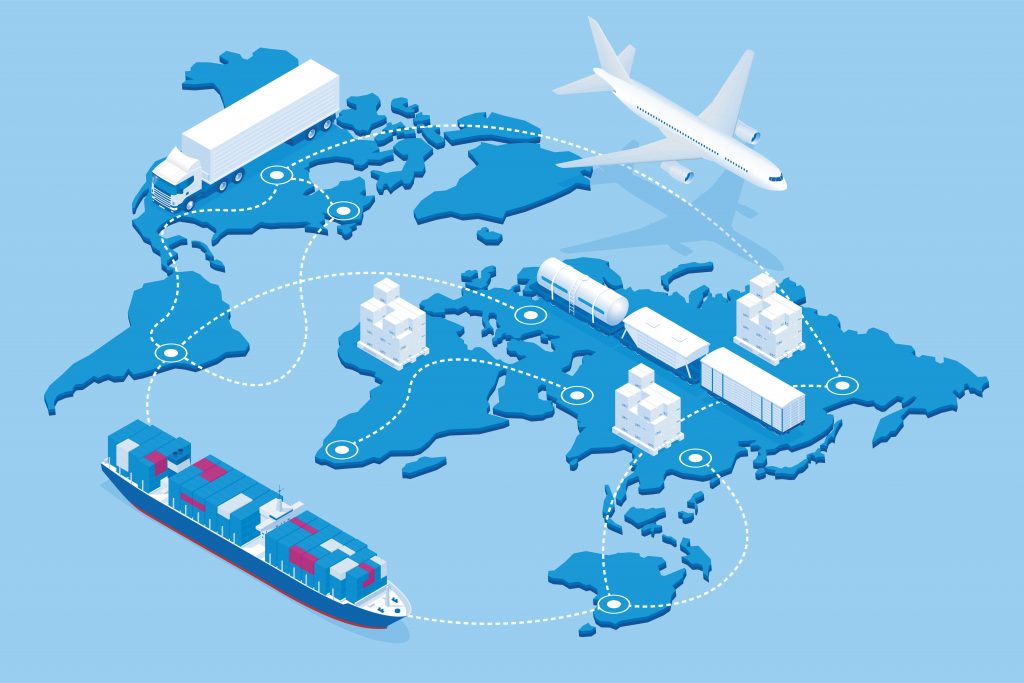 As an example, the online tool shows that, before the health crisis, pet care in China was forecast to rise 17.2% in 2020. In actuality, it hit 17.7%. "With pets increasingly seen as companions, not only is pet ownership increasing but also attitudes to pets are changing, with consumers increasingly willing to invest in pets' health and happiness," according to the tool. But that is just one area where a company might look for possible opportunities.
Country by country, the Market Tracker covers the wide-ranging impact of the pandemic on economies, industries, packaging overall, and flexible packaging. "It's a way that all this information is right here for you," Kaufman says. "All of it is accessible."
The information is organized into sections:
Overview: The number and rates of COVID-19 cases and deaths. The notes offer insights into lockdowns and reopening scenarios.
Impact on GDP: Will GDP grow or fall? There's no way to know for sure, but the Market Tracker presents "best-case" scenarios, which are also referred to as "baseline," as well as "worst-case" scenarios. They are compared by an interactive line graph at intervals through 2030. In all COVID sections, notes amplify the findings and provide global context—for instance, comparing China's case rates to India's, or recognizing the impact of pandemic waves across the globe on China's relatively healthy recovery.
Impact on sector growth: GDP forecasts are adjusted to account for COVID's effects on retail sales within 19 sectors, including the top five tracked by Euromonitor for Flexible Packaging Association members—beauty and personal care, beverages, dog and cat food, food, and home care. Others cited include luxury goods, footwear and apparel, and toys and games. Graphs compare Euromonitor's baseline and most pessimistic forecasts to pre-COVID forecasts. For instance, pre-COVID expected growth of nearly 5% in personal accessories in China changed to an anticipated decline of about -15% in baseline scenarios. Beauty and personal care are forecasted to exceed pre-COVID projected growth in both the baseline and pessimistic projections, driven in part—as cited in the analysis—by heightened awareness of handwashing. "Some sectors have been big winners, and some sectors have been big losers," Kaufman says. "You can take a look at that here."
Impact on flexible packaging: Tables show revised forecasts for market size and impact on growth rates for the packaging industry in the five parent sectors, and by packaging type—flexible packaging, glass, liquid cartons, metal, paper-based containers, and rigid plastic.
Definitions and Scenario Definitions: These provide a peek into the development of the data and projections for a shared understanding and consistent application across economies and scenarios. The broad range of circumstances and data applied to devising the COVID-related forecasts include infection and mortality rates, social distancing measures, business and consumer confidence indexes, global stock prices, supply chain and labor supply disruptions, borrowing rates, and vaccination rates.
The Market Tracker's COVID-19 section provides scenarios across the spectrum—what might happen, depending on the "if-thens" of rapidly changing circumstances.
"As you're planning your business strategies, you can look at these different trajectories," Kaufman says. "If one scenario happens, you can gear toward it, or if another happens, you can gear toward that one. You can have plans in place to prepare for circumstances that can't be predicted but at least can be foreseen based on research and data."
Joe Kubasiak, market manager-flexible packaging for Wikoff Color Corporation, says the information is helpful for sales budgeting, research and development projects, and to monitor legislation within a market.
"It is an easy place to start to look for information on growth and trends," says Kubasiak. "I specifically use it when I am working on budgeting or planning out projects. It provides good, high-level information to help investigate different projects further in other areas."
Market Tracker's Development
The addition of COVID-19 projections to the Market Tracker provides FPA members with increasingly layered information, says FPA Director of Communications Dani Diehlmann. In uncertain times, all of the information compiled in the Market Tracker grows increasingly relevant.
"It helps flexible packaging companies with awareness," Diehlmann says. "It helps make them aware of what's going on and where they need to be focused as they develop their products."
FPA and Euromonitor originally developed the Market Tracker as a platform for sharing Euromonitor's array of market findings. The tool was developed with input from a working group of FPA members who shared the market segments where they would like to see information. FPA members can click on a list or world map showing the 20 countries covered to get a detailed analysis of that country's economic and retail trends and the impact on packaging.
"We're looking to ensure that FPA members get really good-quality information from their membership dues," Kaufman says. "That's a major value that FPA provides for members. They're providing them cutting-edge research."
The Market Tracker features also include analysis of key trends, packaging legislation, recycling efforts, and regulatory affairs. In China, for instance, manufacturers are launching unique packaging shapes to distinguish themselves on store shelves, while heightened baby food labeling regulations are meant to "ensure products' safety and quality."
"Nobody can tell you exactly what's going to happen, but this gives you some ideas about likely scenarios," Kaufman says. "You can get a lot of very rich information."
---
M. Diane McCormick is a freelance writer and editor based in Harrisburg, Pennsylvania.