This summer, the Flexible Packaging Association (FPA) coordinated a program that brought together approximately 35 interns from across various companies in the packaging and flexible packaging industries. Through various online meetings and forums, the interns networked with each other, as well as with industry managers and leaders. This summer and fall, FlexPack VOICE® has been taking a closer look at some of them, and here are two more profiles: Bradley Reinhart and Abid Shafiullah. The names of the companies where they interned this summer are listed, as well, Belmark inc and Integrated Plastics Packaging.
Bradley Reinhart, Belmark Inc. 
Bradley Reinhart grew up in Manitowoc, Wisconsin, and he is entering his senior year at the University of Wisconsin-Stout where he is pursuing a degree in packaging.
"In my current internship with Belmark inc, I have been exposed to a wide array of packaging types, including flexible packaging, pressure-sensitive labeling, and carton making," Reinhart says. "I have been able to interact with several engineers on projects and learn from them based on their experiences in the industry. The information I learned in the lab and out in production has helped further my knowledge on packaging in addition to reiterating information I learned at UW-Stout."
He says he became interested in a career in flexible packaging through a family friend who was hired at Belmark.
"Having similar hobby interests and hearing how much he enjoyed his career in packaging, I thought it was a good idea to do a job shadow," he adds. "This job shadow led me to pursue a degree in packaging at UW-Stout. What caught my attention the most was the hands-on experience and the creation of a physical product that you may have designed yourself."
"Every product will require some type of packaging as it is everywhere we look," he also says.
FPV: If you choose flexible packaging for a career, what area would you pursue?
Bradley Reinhart: Packaging, in general, has continued to be an interest of mine as there seem to be endless opportunities in terms of packaging companies you can work for, new items that need to be packaged, and new technology being created. If I choose flexible packaging as a career, I would like to work on the technical side as I have been doing in my internship. But, I am also open to other opportunities in flexible packaging.
FPV: How will your degree help you with your career path? And where do you see yourself in 5 or 10 years?
BR: My degree will help me with my career path as I learn about many different types of packaging and the importance of packaging through its different environments. This allows me to see different types of industries I could potentially work for. In 10 years, I see myself raising a family and enjoying what life has to offer.
FPV: Who are your mentors and how have they helped you?
BR: I have two mentors who oversee my internship, but all of the engineers within the technical service department at Belmark helped further my knowledge in the packaging industry. They have done this by sharing/showing me their expertise in flexible packaging and pressure-sensitive labeling.
Abid Shafiullah, Integrated Plastics Packaging
Abid Shafiullah was born and raised in Dubai, and he completed his undergraduate degree from Purdue University in May 2019. This fall, he heads to George Washington University to attend graduate school. For the past two years, he has worked at Integrated Plastics Packaging in the United Arab Emirates.
He spent his first year in extensive training on the shop floor in the operation departments, such as PE extrusion, printing, lamination, slitting, and pouching.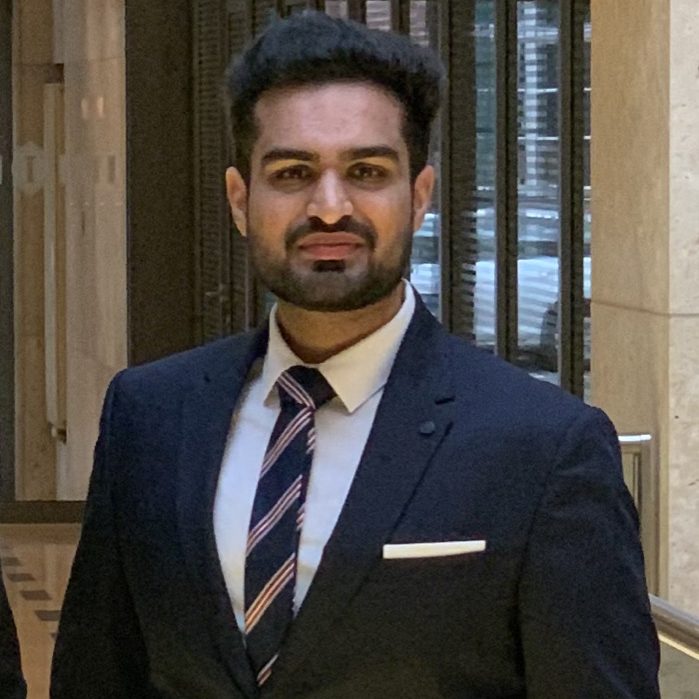 "The training program made me a technically proficient, in-house sales consultant," says Shafiullah. "Packaging has always piqued my interest since a young age. Whenever I visit a supermarket, I always look at the numerous packed products and their designs. The eye always sees the packaging before a product. Indeed, each product has something unique which captures interest in it."
FPV: If you choose flexible packaging for a career, what area would you pursue?
Abid Shafiullah: Flexible packaging has been an interest to me because, by nature, I am curious and look to explore new places and try new things. I want to pursue a sales role, as it is a great path to meet and network with other people. The networking is either with business owners or someone with vast experience in procurement. There is a lot to learn about their experiences and journeys, which motivates me to be on a path of continuous development. Furthermore, I get to learn about the latest innovations in the industry and how to commercialize an idea to a product.
FPV: How will your degree help you with your career path? And where do you see yourself in five or 10 years?
AS: My undergraduate degree in marketing and management has helped me learn how to communicate and express my ideas. At the same time, it has taught me how to work in a team and excel as a group. This fall, I intended to do my master's in business analytics, which will help me use data to solve complex problems in an optimized manner. In the next five years, I see myself managing a team of salespeople and growing the presence of sustainable flexible packaging.
FPV: Who are your mentors and how have they helped you?AS: My mentors are the sales and operation directors of Integrated Plastics Packaging. They have guided me from the start of my career with various methods I learned about in school. They motivated me to constantly learn and develop to become a technical sales consultant–always presenting a solution to customers to make their experiences seamless.