The Flexible Packaging Achievement Awards Competition had a strong international flavor this year, especially when it came to printing excellence, leading to multiple awards for one company in the United Arab Emirates and another in India.
"The printing quality this year was the thing that jumped out to me. We just saw some of the most outstanding packaging graphics, designs, and shelf appearance that I've seen in any competition in the past few years. Very impressive," says David Luttenberger, the global packaging director with Mintel, a consumer insights research firm. Luttenberger was one of the three judges of the 2021 contest. "The U.S. does not have the lock that it did on packaging technologies that maybe it had even a decade ago. It truly is showing that packaging is a global industry."
In fact, Emirates Printing Press, L.L.C. won four awards in printing quality—three Gold Awards and one Silver Award—among several other awards.
"This win is an affirmation that Emirates Printing Press has a well-known name in the United States as an excellent printer for flexible laminate and pouches," says Samuel Natarajan, the Chief Operating Officer for the company based in Dubai. He notes that the awards came amid a pandemic when everyone was struggling with the restrictions and the personal toll it was taking. "At such a time, receiving several awards makes us feel appreciated and positive to keep going and doing our best."
About 75 packages were submitted to the contest, with some of them being entered in multiple categories. In the end, 20 packages received 27 achievement awards in the six categories: expanding the use of flexible packaging; technical innovation; sustainability; printing; shelf impact; and packaging excellence.
The Highest Achievement Award went to Crunch Pak's Toy Story Lunch Kitz, which also won a Gold Award in technical innovation. According to FPA, the Highest Achievement Award is given to the package that has "overall packaging excellence, significant attributes in all award categories, and contributing most to the advancement of the industry." The Crunch Pak's Toy Story Lunch Kitz is made by American Packaging Corp. at its plant in Story City, Iowa.
"American Packaging has been in the converting business since 1902," says Jeff Koch, president of American Packaging. "This is the first time that we can recall winning this particular award. We are thrilled about the recognition for our associates and our customers that comes from receiving the Highest Achievement Award."
Atlanta-based Printpack was among the companies that won in multiple categories, including printing and packaging excellence. It also won for shelf impact with two different products. Alisha Howard, Printpack's marketing manager, says the company will feature the awards in press releases and on social media posts, as well as in case studies in client presentations.
"The competition allows us to show off our most interesting, innovative, and creative work for the year," Howard says.
Emirates Printing Press will use the awards to increase its sales and client base, especially in the United States, where it is important to have a reputation as an excellent printer for flexible laminates and pouches, Natarajan says. "This contest is important because it helps compete with the international converters in the flexible packaging industries and gives confidence to our clients that we are at par with international quality standards," he adds.
Several participants in the contest point out that the awards provide an opportunity to see what else is happening in the industry.
"We learn from others while pushing ourselves internally to put in more efforts to enhance our skills, especially with new substrates, finishes like cast and cure, hot foil stamping, random coding, register perforation in roll form, and incorporating many more new trends and technologies," Natarajan says.
The other judges—Cory Francer, editor-in-chief of Packaging Impressions magazine, and Keith Vorst, packaging researcher and professor at Iowa State University—also say they were impressed with the international entries.
"I always look to Europe for some innovative ideas," Vorst says. "We have them here in the states, as well, but it's nice to get that mix, and I think we're seeing just a different approach in some of this packaging."
The judges awarded a Silver Award in technical innovation to Paharpur 3P, which is based in India.
"I've been in the packaging industry for 30 years now," Luttenberger says. "It seems like every year I'm less surprised by the level of technology advancement, print quality, and sustainability from the underdeveloped or underserved regions. I mean, we see some outstanding technologies in flexible packaging from India."
Among the North American winners was Berry Global, which took two Silver Awards in sustainability and one each in packaging excellence and technical innovation.
"The achievement awards are a platform for our customers, employees, and stakeholders to be recognized for their hard work and collaboration, and this idea is central to us," says Jerry Lamarre, executive vice president/general manager at Berry Global's engineered materials division. "The contest is also an opportunity to demonstrate our success to those brands and converters who have not worked with us and can often serve as an entry point with targeted prospects. Lastly, we believe that when we share our successes with others in the industry, it encourages growth and advancement for the industry as a whole."
"Any advancement within our industry is not just a success for the company that entered, but for the industry as a whole," Lamarre explains. "We believe the achievement awards serve as a platform for recognition, but also for sharing ideas and progress."
---
Thomas A. Barstow is senior editor of FlexPack VOICE™.
---
SIDEBAR: Here is a Look at Some of the Winners
Crunch Pak's Toy Story Lunch Kitz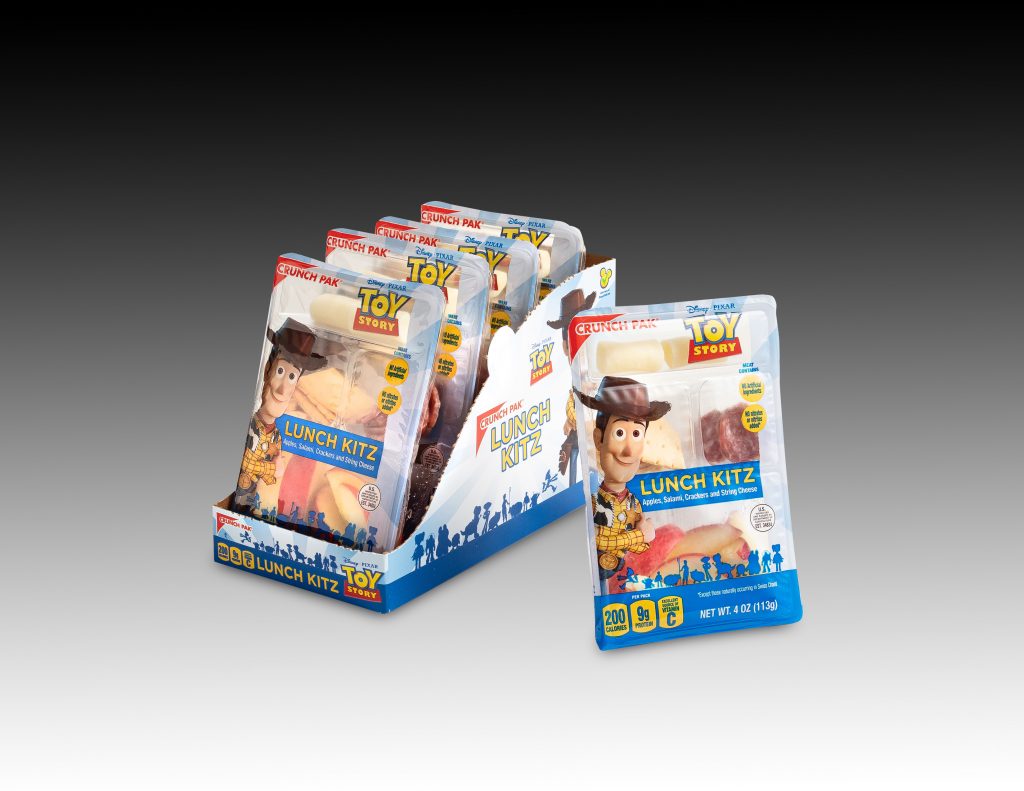 Awards: Highest Achievement Award; Gold Award—Technical Innovation
Manufacturer: American Packaging Corp., americanpackaging.com
Description: Crunch Pak's Lunch Kitz is a 4 ounce snack tray having individual compartments containing fresh sliced apples, an artisan cracker, string cheese, and Italian salami. The foods are fresh and healthy, including salami, which is without nitrates, nitrites, or artificial ingredients.
Hunter's® Gourmet—Quinoa Chips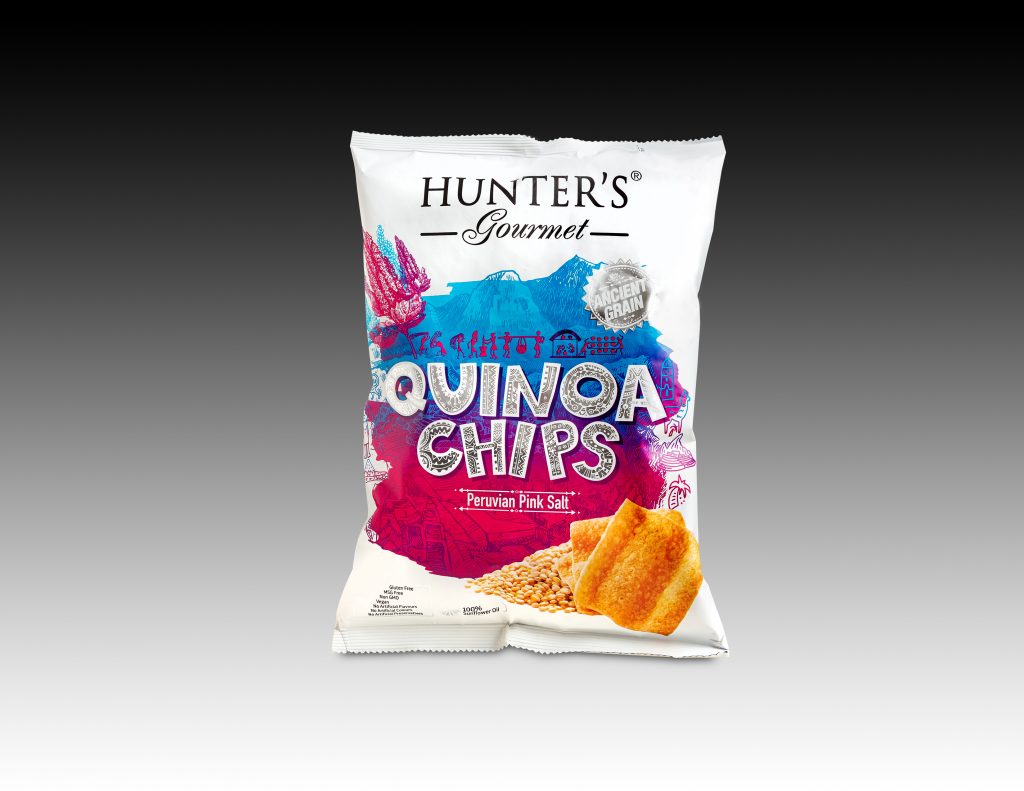 Awards: Gold Award—Packaging Excellence; Gold Award—Printing; Gold Award—Shelf Impact
Manufacturer: Emirates Printing Press, L.L.C., eppdubai.com
Description: The first thing that consumers remember about a brand is its color. The print on matte OPP with a white background and multiple colors gives the package a very rich look, and the shelf appearance influences the consumers to buy the product. The structure of the package also maintains the required barrier for the chips.
Brookside Hershey's Exotic Dark Pouch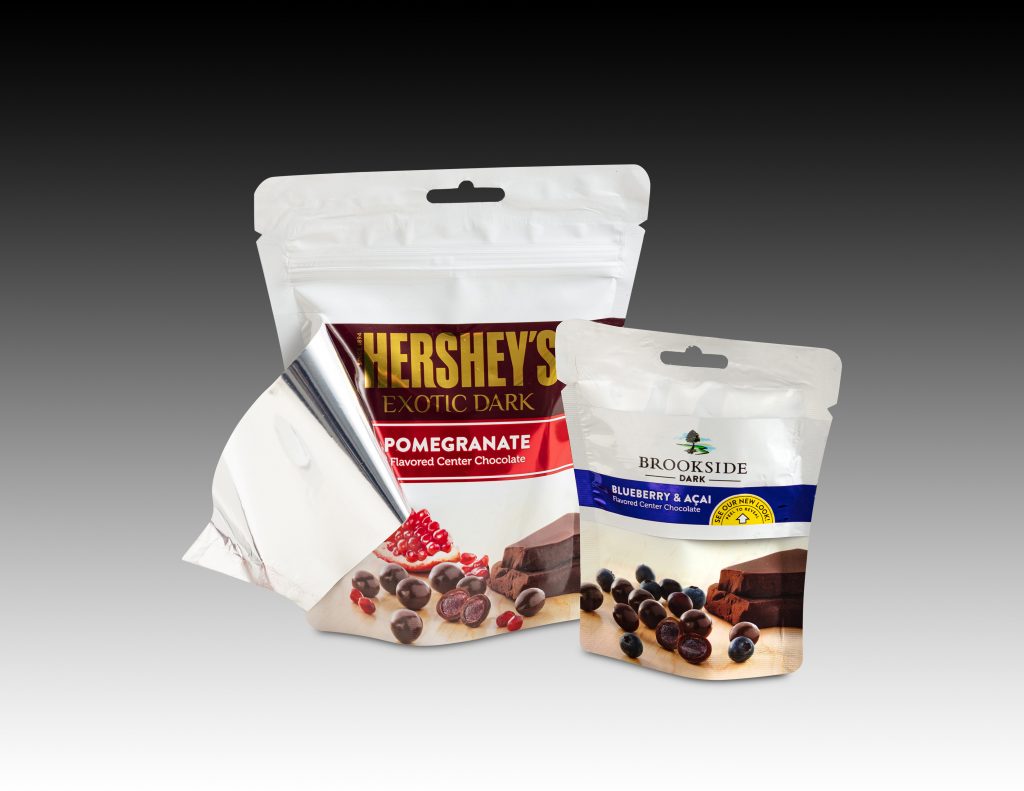 Award: Silver Award—Technical Innovation
Manufacturer: Paharpur 3P, paharpur3p.com, and Hershey India Private Ltd., www.thehersheycompany.com/en_in/hershey-india.html
Description: This innovative peelable strip in a pouch was developed where the consumer initially sees the existing branding (Brookside) and then peels the strip away to unveil the new Hershey branding (Hershey's Exotic Dark). The strip is an integral part of the pouch and is not a pressure-sensitive paper label. Paharpur 3P developed this concept, modified existing equipment, and was able to manufacture the pouches with a zipper and bottom gusset, plus the registered strip with minimum tolerance. The challenge was to develop the laminate structure for the pouch and strip, which should look similar to the existing laminate and exhibit good heat seal and easy peel properties. The specifications of the base gusset of the pouches were slightly changed, and it passed all hurdles of machinability/barrier properties and standability.