The explosion of e-commerce over the last two years fueled a burst of creativity that will leave a lasting mark on flexible packaging, even if online sales retreat from their pandemic-era highs. The mark is strongest in food packaging, whether for groceries or restaurants. But it is extending to all sorts of other products as brands figure out how to work flexible packaging into their supply chains, whether for bulky home-improvement items or fragile liquor bottles.
"In the early stages of the e-commerce boom, brand owners were just reacting to the unprecedented growth by getting their products into the e-commerce stream, and optimized pack­aging was a further-out consideration," says Allison Holzshu, vice president of product line management in the engineered materials division at Berry Global, based in Evansville, Indiana. "Now, we are seeing brand owners place significance on product and packaging design specific to e-commerce. This could be an opportunity for flexible packaging to help deliver solutions."
A Peak or a Plateau?
E-commerce sales were growing before the onset of the COVID-19 pandemic in March 2020. They accounted for 11.4% of U.S. retail sales in the fourth quarter of 2019, up from 10.1% in the fourth quarter of 2018, according to figures from the U.S. Census Bureau.
Online sales took off when the pandemic hit, jump­ing to 16.1% of total retail sales in the second quarter of 2020, as many brick-and-mortar businesses closed. Businesses were starting to reopen by the middle of 2020, and e-commerce sales began to slide, slipping to 13% of the total by the third quarter of 2021, according to the U.S. Census Bureau.
Consumers are clearly more comfortable with e-commerce than they were before the pandemic, according to flexible packaging executives. But it is not clear where it will settle, particularly in light of the labor and supply chain challenges that have frustrated all kinds of sales over the past year or more. "E-commerce is not immune to these market forces," Holzshu says. "I would expect some course correction in 2022 until we settle into the new normal. That being said, consumer preference for convenience and easy access isn't changing, and, therefore, we expect to see higher growth continue in e-commerce channels versus the brick and mortar."
The pace of growth could be subject to change depending on the course of the virus, executives noted. The omicron variant drove a surge in cases last winter but receded by the spring. "It's difficult to predict how the balance will shake out and establish a 'new normal,'" says Frank Lawson, vice president of sales for Novolex, based in Hartsville, South Carolina. "Food safety and convenience will ebb and flow as variants of COVID-19 continue to alter our expectations of the future; consumer patterns may remain in a new normal even after COVID subsides."
Food at the Forefront
Some of the biggest changes to packaging have been in the food industry. During the pandemic, more consum­ers have taken to online grocery shopping. They also are ordering more take-out meals from restaurants.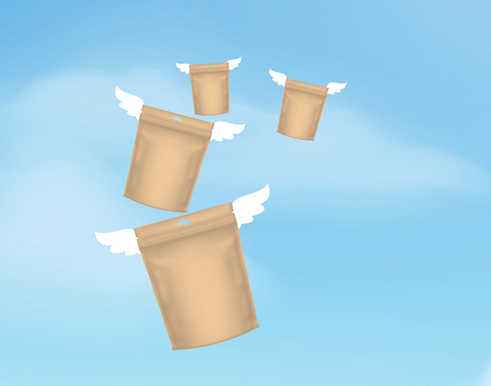 According to an early 2022 report by the National Restaurant Association, 54% of adults say purchasing takeout or delivery food is essential to the way they live, with the share reaching 72% for millennials and 66% for Gen Z adults.
Both trends fueled innovations in packaging, according to Lawson. Novolex, for example, devel­oped the ProWave™ Tote, a recyclable plastic bag that also contains post-consumer recycled material that is targeted for grocery, pick-up orders, and other retail applications. Another Novolex product, Load & Seal™ Tamper Evident Delivery Bags, addresses concerns about food safety and hygiene, Lawson says. "We are all about finding solutions to the unique challenges the food industry faces today," he says.
In some cases, brands are experimenting at a rapid pace with products designed specifically for e-commerce, Holzshu says. "This, of course, increases product proliferation and development work. We have seen e-commerce strain the entire supply chain, forcing each layer of the chain to optimize their process for speed and efficiency."
Communication is among the keys to getting things right, says Evan Arnold, vice president of business development at Glenroy, Inc., based in Menomonee Falls, Wisconsin. "With the supply chain challenges, and the expansion of packaging options, it's critical to remain in constant communication with the brand owner to ensure that realistic deadlines are established and discussions regarding delivery dates are started as early as possible."
Amazon's Influence
The pandemic is not the only factor spurring changes in packaging. Amazon, the largest online marketplace in the U.S., also has been a driver, according to Kevin Grogan, CEO of TCG Legacy Printing & Packaging, based in Garner, North Carolina.
The e-commerce giant wants products shipped in their own containers, a standard known as SIOC, for "ships in its own container," Grogan says. Another Amazon priority is packaging that is certified as frustra­tion free.
Flexible packaging is inherently frustration free, Grogan says. While the sector faces challenges in meet­ing the SIOC standard without the aid of corrugated packaging, new materials and methods are emerging to address the challenge.
Grogan cited a product from Liquibox, a company where he used to work. It developed a nylon-free, PE-based film designed to stand up to the rigors of the distribution environment while shipping in its own retail packaging.
Brands, meanwhile, are increasingly interested in the use of flexible packaging over cardboard in e-commerce, Holzshu says. Flexible packaging is less expensive, thinner, and lighter weight, which allows for more packages on a truck. "We're seeing a lot of customers move from a more rigid package to a more flexible package, and e-commerce is no different," Holzshu says.
In addition to its lighter weight, flexible packaging also creates opportunities for raising brand awareness, says Arnold. "They can use the package as a billboard that gets directly into the hands of the consumer and delivers a specific message," he says. "In addition, the design of the flexible package itself can send a mes­sage to the consumer that the brand cares about the customer by protecting their products and protecting the environment."
For e-commerce, he adds, brands are looking for different sizes and structures in flexible packaging that can replace or complement their existing packaging for store shelves. "Consumers are becoming more e-commerce savvy every day," Arnold says.
Socializing
While e-commerce has grown over the last two years, people have not lost their hunger for socializing, flexi­ble packaging executives note.
High-service products in technology and hardware are one area where face-to-face interaction will remain important, Grogan says. "I don't think e-commerce will be able to fully replace that experience."
One of the chief advantages of shopping in person is the ability to try something before you buy it. But e-commerce companies have been working to recreate that experience, most notably the eyeglasses retailer Warby Parker.
The trend could have implications for flexible packaging, Holzshu says. Berry Global developed films that can be used in "return-style" mailers that deliver a product to the consumer and also can be used for returns. "Many consumers gained an affinity to online shopping and transitioned their shopping to online retailers," Holzshu says. "While these habits and behaviors may soften slightly, as consumers desire to get out and enjoy the in-person shopping experience, we expect that much of the e-commerce growth is here to stay throughout 2022 and beyond."
Brands will expect flexible packaging suppliers to provide options for both online and in-person sales, Lawson says. And they will expect suppliers to react quickly to consumer trends and evolving preferences. "Our job is to provide products that can address both of those needs for our customers in the safest, most environmentally preferable way," he says.
More people may be shopping from their couches and kitchen tables. But many consumers, particularly on the younger end, are unlikely to lose their concern for the impact of packaging and consumption on the wider world.
More than two-thirds of consumers, or 71%, believe that online orders come with too much packag­ing, according to a recent report by First Insight, a Pittsburgh-based consulting firm that works with retailers. Almost 80% prefer eco-friendly or environ­mentally conscious packaging, according to the report. "As the push for sustainable solutions continues, brand owners have a willingness to balance the use of recycled content with the aesthetic and physical requirements of the package," Holzshu says. "Going forward, moving to complete packaging with a single substrate or even replacing paper labels—with PE for example—would greatly improve the recyclability and recycled resin quality."
Younger consumers also are interested in traceability and ingredient transparency, referring to the ability to track where products come from and what's in them. "Consumers have easy access to information and can easily do their research on a specific product and/or brand well before they even see a product on a shelf," Holzshu says.
It may be too early to say exactly where e-commerce trends will settle. Nonetheless, the demand for innovation is not going to fade, according to flexible packaging executives. "We believe that over the next several years we will continue to see steady growth in e-commerce over brick-and-mortar retail," Holzshu says. "Many traditional retailers invested in their online shopping experiences, so there is little risk to them abandoning their investment."
---
Joel Berg is a freelance writer and editor based in York, Pennsylvania.