David Luttenberger picks up a bag entered in the 2021 Flexible Packaging Achievement Awards Competition and holds it up in the air, examining it. He pulls on a tab, and the tab tears off, without the bag opening. "That's not good," says Luttenberger, global packaging director with Mintel, a consumer insights research firm. "I can't get it off."
Eventually, he gets the bag open and starts assessing the package for its print quality and shelf impact. "It's a nice bag. That's about all I can say about it," he says after reviewing some of the attributes with Keith Vorst, Ph.D., another judge in the contest. Vorst, a packaging researcher and professor at Iowa State University, doesn't disagree. "It's cool," Vorst says. "But it's a bag."
After some discussion, Vorst gives the entry a seven out of 10 for print quality and a "six to seven" for shelf impact, two of the six categories in the contest. Luttenberger's assessment was similar, so the judges don't linger. They move on to the next package among the roughly 200 entries.
Vorst, Luttenberger, and Cory Francer, editor-in-chief of Packaging Impressions magazine, spent hours over several days in early December judging the numerous products entered into the contest. The annual ritual includes industry experts—usually different ones each year—who are asked by the FPA to bring their experience to the contest. Normally, they would gather in the offices of the FPA headquarters in Annapolis, Maryland, where flexible packages are set up on long tables and numbered, with the judges getting up and grabbing an entry as they discuss the product, rate it on a scale of one to 10, and then set it aside before moving on to the next one. But, like everything in 2020, nothing was normal.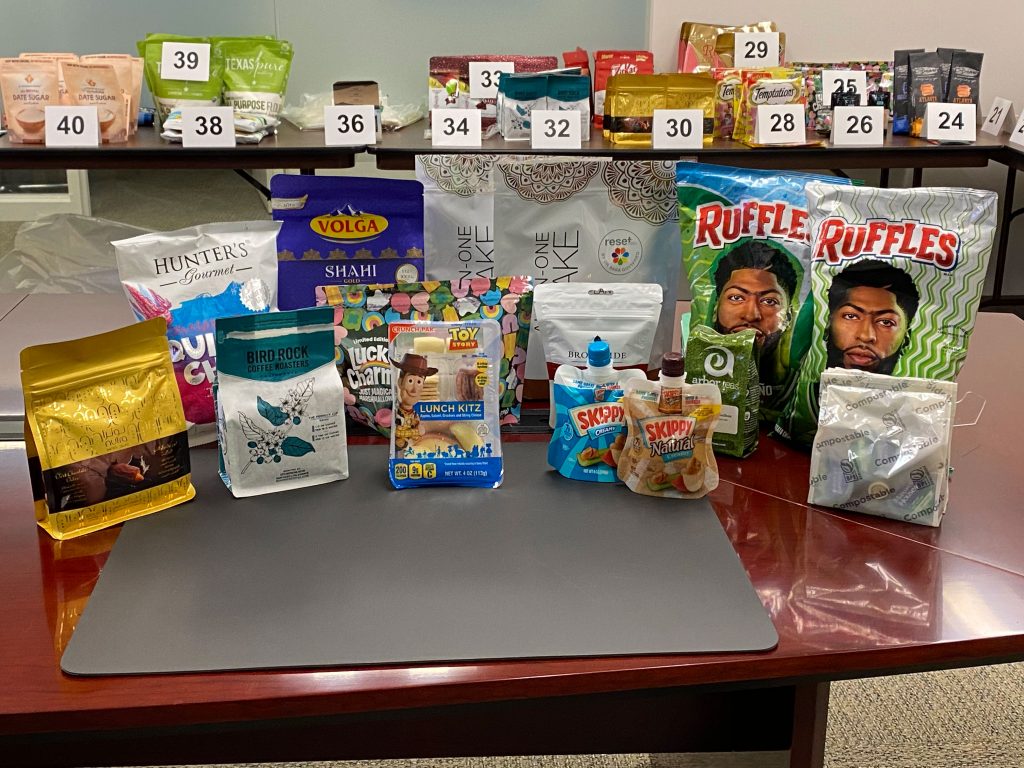 This time, the contest was done remotely. That required FPA staff to box up and send samples to the three judges so that they could see the entries up close and get a feel for what they were looking at, literally and figuratively. Vorst and Luttenberger spent the first day of judging on a Zoom call arranged by Dani Diehlmann, FPA communications director. Diehlmann still had the long tables set up in the FPA headquarters, where she and Alison Keane, FPA president and CEO, tuned into Zoom to guide the process and answer the judges' questions. Francer, who had a family emergency on that first day of judging in early December, went through the packages separately before regrouping with the other judges later in the month to determine the winners.
Diehlmann says that, while there were 75 packages entered, the total contest entries numbered about
200 because contestants can submit products in
multiple categories.
"That's about the same amount we have typically received over the last five years," Diehlmann says, adding that she was pleased with the totals because of initial concerns that the pandemic might limit participation. "For the 2020 competition, we had 71 packages, with 206 total entries."
"We had a great turnout despite the pandemic," Diehlmann says.
Participants could enter in any of six categories: expanding the use of flexible packaging; technical innovation; sustainability; printing; shelf impact; and packaging excellence, which is designed for entries that incorporate the other categories.
The volunteers took some time during the course of the judging to discuss what impressed them the most about the entries and how contestants could improve their odds of winning next year. All three have previous experience judging contests, either with FPA or other packaging organizations.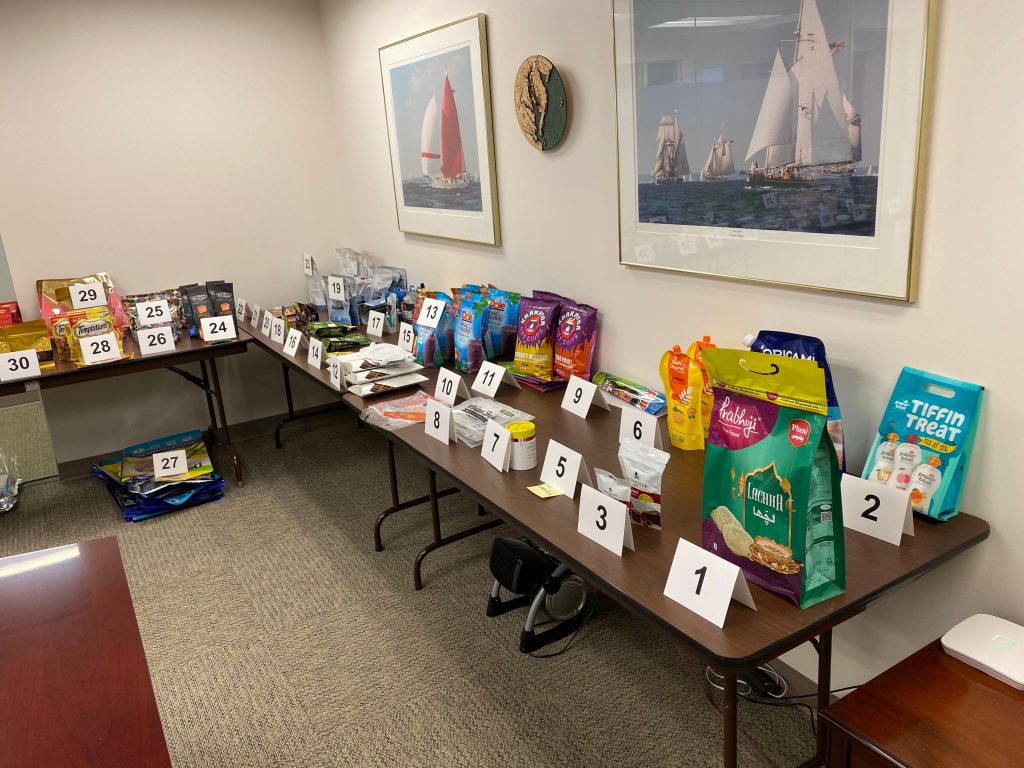 "One thing that is really cool is all the international entries," Francer says, noting that products came from India, the Middle East, and Europe, as well as North America. "Getting to see packaging from all around the world is really fascinating on a number of levels. You get to see how they are contending with sustainability. You get to see how they approach their print and design attributes. You get to see multiple languages on the same package—and the way they design around that."
Luttenberger says that he, too, found the international entries illuminating. "I'd say that what surprised me in this year's FPA competition was the level of flexible packaging printing excellence, particularly from off-shore, and the UAE in particular," he says.
"Great packaging innovations do not have to be complex to be significant," Luttenberger says. "That's not to say engineering and design don't count, but a true packaging solution—versus a disruption—is most often a packaging technology or innovation that consumers can recognize or understand 'what it means to me.' That 'what it means' could be freshness, safety, efficacy, or even a value proposition."
When it comes to the contest, he looks for "both similarities and uniqueness."
"Similarities reveal a response to or proactivity toward a trend," Luttenberger says. "Uniqueness shows a greater level of thinking and, hopefully, addresses a known or unexpressed consumer need to which a particular package is a solution."
"Don't expect laurels for doing what's expected or what's simply 'new to you.' Always push the industry's envelope, not just your company's," he advises. He adds that contestants could do a better job of conveying that information, too. "I have juried many packaging competitions during the past 30 years, and I am struck by the lack of pertinent information included on the entry forms and how much information is simply repeated."
Creating Better Entries
All three judges agree that a lot of the contestants could have done a better job with their descriptions, some of which were either confusing or unintentionally misleading because the wording wasn't clear.
"I would want a little more detail," Francer says. "There were a lot of descriptions that I think could have used a little more meat to them. Whether it was about sustainability or about the materials being used, or why the materials selection was important and what the impact would be."
An entry might mention sustainability efforts, he says as an example, but not communicate those attributes. "Explain to me why it makes it easier to recycle or compost," Francer says, adding that his advice holds true across all the contest categories. "Tell me what press was used or a color that was challenging to hit. Or the process it took to get the best print quality. Maybe a little more information about the equipment being used or the printing process that may have made it so challenging."
Francer says the competition was stiff in the printing category, so companies needed to distinguish themselves. "Maybe more information about how the printing was done, what challenges were overcome in doing it," he adds. "Don't be afraid to tell us a story. How you worked with the brand owner. How you assessed your own internal capabilities to achieve what they wanted. That would be my recommendation, go a little bit deeper in the description."
The judges saw examples of high-quality packaging with exceptional printing, exceptional barrier properties, exceptional shelf appeal, technical achievements in reducing the amount of plastic used, as well as excellent examples of highly engineered packages for medical uses, Vorst says. However, if the descriptions weren't clear, the judges had a difficult time doing an assessment.
"There were a couple in there that were really incredible, but the way they wrote up the description it contradicted itself, and we weren't really sure what we were looking at," Vorst says. "A lot of packaging with technical achievements are not necessarily noticeable without a good description. It needs to have the right amount of technical description and application knowledge. Where is it used? Why is it used? What makes it better? And it's critical that it contains novelty, something not seen before, or a new sustainable message."
Sustainability
Indeed, sustainability and sustainability messages were top of mind for the judges. The industry clearly is aware of what it is doing well and recognizes that there is room to make improvements, Francer says.
"We saw some compostable packaging this year," Francer says, as an example. "We are really starting to see how printers, converters, and brands are looking at sustainability opportunities and improving their packaging in a lot of ways to contend with sustainability."
Vorst agrees, saying, "What jumps out at us is being able to provide a high-quality package that has a sustainable message. We saw a lot of examples of packaging making incremental steps toward sustainability while maintaining a high-quality brand image."
The incremental improvements add up over time, Vorst and Luttenberger point out, so it was good to see such steps in the contest entries.
"It's fascinating to watch the pace of evolution with, for instance, the inclusion of recycled content," Luttenberger says. "Where just a year or 18 months ago we marveled at 30% recycled content, now we simply say, 'only 30%!'"
One of Vorst's specialties is researching and studying the advancements in post-consumer recycled materials, so he would have liked to have seen more examples of that.
"It literally is becoming mandated in a lot of cities and states," he says. "It's becoming a regulatory concern. It's going to be a requirement—California, Washington, Oregon. There are already minimum content requirements, so we need to really focus on how to include more recycled content."
Vorst says the lack of clear communication about sustainability in the contest entries is indicative of a wider problem of communication with brand owners and end users.
"A lot of them have these sustainable messages. They have some really amazing technological achievements, but it is not being communicated to the customer," Vorst says. "That was not even happening in the awards competition, where they needed to be communicating to us."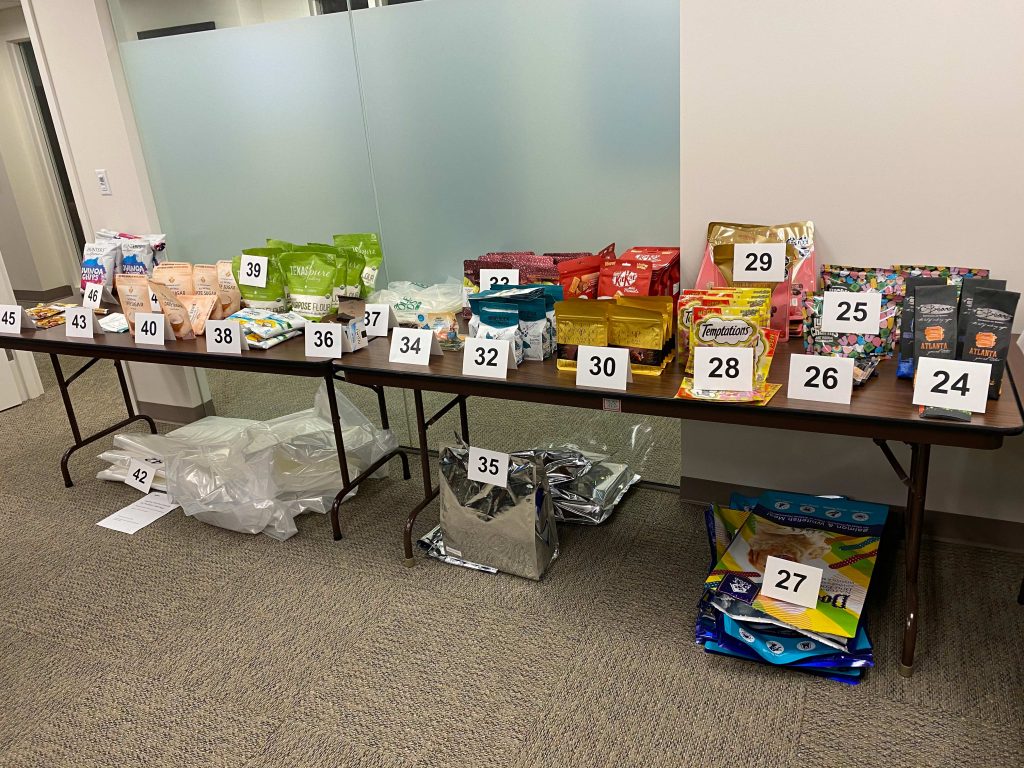 In fact, he adds, the contest drove home to him that the industry must make communication of sustainability messages a higher priority, especially when reaching brand owners, end consumers, regulators, environmental groups, and non-governmental organizations.
"There is virtually no information on some of those packages—none," Vorst says, while acknowledging that some contest entrants did a good job of it. "I really like to see it when it is marketed on the package. That was really important for us this year."
Some packages entered in the contest demonstrated the use of QR codes or other scanning measures to help consumers interact with the product in ways that enhance recycling efforts.
"Communicating messaging on the packaging really does work," Vorst says, speaking generally about the industry. "People are looking at that packaging. But I see very little communication on packaging for helping consumers, helping environmental groups, and helping regulators understand that incremental steps are being made to provide more sustainable packaging. There is work being done."
One caution: Companies shouldn't overstate their sustainability efforts.
"I see a lot of greenwashing, too, which is a real concern," he says, noting that the judges saw at least one entry where they suspected the sustainability claims were overblown. "The industry needs to police and regulate themselves on greenwashing—claims that are not data driven and unsubstantiated."
"We saw a couple examples of that," he says. "And one of them we didn't even want to judge it."
COVID-19 and Its Impacts
The judges note that few entries highlighted the impacts of the pandemic on packaging this year, even though the industry adapted and adjusted to meet the new demands of security, safety, and e-commerce.
"I truly understand the extreme pressures on the supply chain and, in particular, e-commerce during the COVID pandemic," Luttenberger says. "But I am still struck by the lack of innovations in e-commerce packaging during the past year."
Diehlmann and Keane suggest that the innovations that were developed or that are underway weren't ready for this year's contest and likely will be prominent in the 2022 entries. "If we are going to see a shift with COVID-19, it will probably be next year's entries," Keane says.
Vorst says he knows that COVID-19 slowed the pace of what could be done with research and development, and he suggests that companies made adjustments in 2020 that might not have made their way to the contest this year.
"I am impressed that companies were able to do what they could during a pandemic," he says.
---
Thomas A. Barstow is senior editor of FlexPack VOICE™.