Andrew Meyer has been running AeroFlexx since March 2019 as CEO, overseeing the continual development of its flexible packaging products and focusing on sustainability.
"AeroFlexx is at the forefront of transforming the liquid packaging industry," Meyer says in an email. "We are committed to reducing the environmental impact by offering sustainable liquid packaging solutions that exceed the needs of brands and consumers alike."
In 2020, the company won the highest achievement award in the Flexible Packaging Association's (FPA's) 64th Annual Flexible Packaging Achievement Awards Competition while also taking gold awards for expanding the use of flexible packaging, packaging excellence, shelf impact, sustainability, and technical innovation. AeroFlexx is a portfolio company of Innventure based in Orlando, Florida.
Meyer, who has extensive experience in entrepreneurial environments, previously was the CEO of Cobalt Technologies and chief commercial officer of Synata Bio, where he led organizations through significant merger and acquisition transactions, according to the AeroFlexx website. He received his MBA and master's in chemical engineering from the University of Toledo and earned a Bachelor of Science degree from the University of Findlay in Ohio, with a dual major in environmental management and mathematics with a minor in chemistry.
In an emailed response to questions, he recently discussed his views on the issues facing the flexible packaging industry and the thinking behind the "five key pillars" of sustainability.
FlexPack VOICE®: What do you see as the major challenges facing the industry in 2023?
Andrew Meyer: While the industry certainly continues to face supply chain challenges, one of the most critical obstacles for companies is to implement meaningful sustainable solutions that make an immediate impact on the environment. The amount of progress being made today relative to the continued growth rate of plastic use is not making a meaningful impact on broader climate change initiatives.
From my perspective, supply chain challenges continue to impact the ability to build machinery to sustain the growth of converters' manufacturing footprint in a timely manner and accessing recycled resin raw material to meet the growing demand for circularity.
FPV: When it comes to technology, how, if at all, is AeroFlexx thinking of using artificial intelligence (AI)? What about robotics?
AM: We are constantly exploring innovative technologies to enhance our operations and products, including the potential use of AI. As we scale our operations, we will consider integrating robotics into our facilities to drive operational efficiencies and productivity.
FPV: Tell us about your sustainability efforts.
AM: We understand the importance of addressing sustainability in liquid packaging. Our AeroFlexx Pak is made of a flexible material but designed to act like a rigid bottle, combining the best qualities of both in a single solution.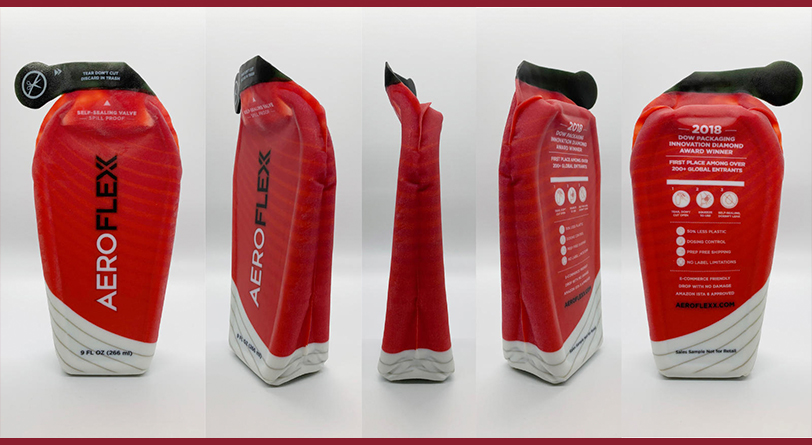 With a strong focus on sustainability, it effectively addresses the five key pillars, reducing plastic upfront, innovative package design, streamlined supply chain, conscious material choices, and promoting circularity:
First, we are committed to reducing plastic upfront. By utilizing up to 70% less plastic in our AeroFlexx Pak compared with traditional rigid bottles, we significantly minimize our environmental impact and contribute to a more sustainable future.
Second, our innovative package design sets us apart. Our proprietary airframe technology not only protects the integrity of the liquid inside but also provides structural rigidity throughout the packaging's life cycle. This means that our packaging can withstand the rigors of transportation, enabling prep-free shipping of liquids and eliminating the need for additional packaging materials such as Bubble Wrap, induction seals, or overwrap. In addition to its structural advantages, it offers unique branding opportunities. With no label limitations and 360-degree artwork capabilities, our packaging stands out on both physical store shelves and online platforms. Brands have the freedom to customize their liquid packaging according to their specific preferences, including size, shape, and captivating edge-to-edge artwork, all while eliminating the labels used today.
Third, we recognize the environmental impact of transportation and the value we bring to brands by simplifying the supply chain. By switching to AeroFlexx, brands can replace three to four components—bottle, cap/trigger spray, labels, inductions seals—with a single solution, thus taking trucks off the road and simplifying operations. Additionally, our flat shipping approach reduces the number of trucks required, leading to more efficient transport and a reduced carbon footprint. For example, approximately 1.2 million flat AeroFlexx Paks fit on a standard empty truck in comparison with only 120,000 empty traditional bottles. These are significant advantages to simplifying the supply chain while making a positive impact on the environment.
Fourth, conscious material choices are a crucial aspect of our sustainability efforts. The AeroFlexx Pak can incorporate up to 50% recycled content while maintaining durability and customer satisfaction. By utilizing a combination of up to 70% less plastic upfront and incorporating up to 50% recycled content, the AeroFlexx Pak can eliminate up to 85% of virgin plastic when compared to traditional rigid bottles.
Lastly, once the consumer is finished with the product, the package can be curbside-recyclable where all plastic bottles are accepted.
These five pillars demonstrate the multidimensional nature of sustainability.
FPV: How effective are they?
AM: Our AeroFlexx Paks are a highly effective liquid packaging solution. We took the positive attributes of rigid and flexible packaging and eliminated the negatives to create an entirely new form of liquid packaging. It is an all-in-one solution made of a flexible material but designed to act like a rigid bottle.
Consumers are delighted by the effortless opening experience. With a simple tear of the tab at the top, the package is ready for dispensing, eliminating the need to struggle with a cap or closure.
Another feature is the self-sealing value. With the squeeze of one hand, a consumer can dispense liquid more precisely and cut down on waste. The consumer could even purposefully hold the pack upside down, and everything will stay inside and can easily dispense down to the last drop.
Lastly, the airframe technology protects the liquid and ensures the AeroFlexx Pak keeps its shape, durability, and structural rigidity throughout the entire life cycle. By using air instead of plastic to create this revolutionary structure, we embrace sustainability without compromising performance.
---
Thomas A. Barstow is senior editor at FlexPackVOICE®.
Editor's note: This article was updated September 8, 2023, to correct Andrew Meyer's job title.