It's a great time to be in flexible packaging, especially if you're a vertically integrated, domestic manufacturer like Plastic Packaging Technologies. I'm guessing many other leaders in this industry feel the same way.
Everything as we know it has changed since March. There's no such thing as a new normal—it's definitely a new different. We are all adjusting, learning, adapting, and leading without a playbook, but we're all keenly focused on being good stewards of our companies and our industry while providing essential products for our country, colleagues, and communities. Yes, we're all facing challenges to keep an adequate and sufficient workforce safe, healthy, and productive, but we are fortunate to be in an industry that is thriving in a world where other industries are falling apart. What we do truly matters in a society that is searching every day for positives that might come from this unprecedented pandemic.
But this is no time to be complacent about the increase in demand that most flexible packaging companies have seen over the last number of months. Now is the time to rise to the recent challenges and position our industry to address the evolving trends in a post-COVID environment, and that includes staying focused on sustainability.
We have an opportunity as an industry to lead from the front by continuing to aggressively pursue sustainable packaging solutions even while the drumbeat of anti-plastics messaging has temporarily softened during these unprecedented times. At least for today, it seems there is a growing appreciation for the tremendous benefits of plastic packaging and how it serves a really important job of protecting/preserving products, while also enriching all our lives through purposeful and powerful features and attributes.
Nevertheless, sustainable mandates are here to stay and are being driven from all angles of the supply chain. This will only gain more momentum in the months ahead, as companies recognize and embrace the sustainable solutions and benefits of flexible sustainable packaging that can be achieved without having to compromise on barrier or performance. You can see some examples of what Plastic Packaging Technologies is doing by going to www.Plaspack.com, clicking on the products button, and then scrolling to the sustainable products section.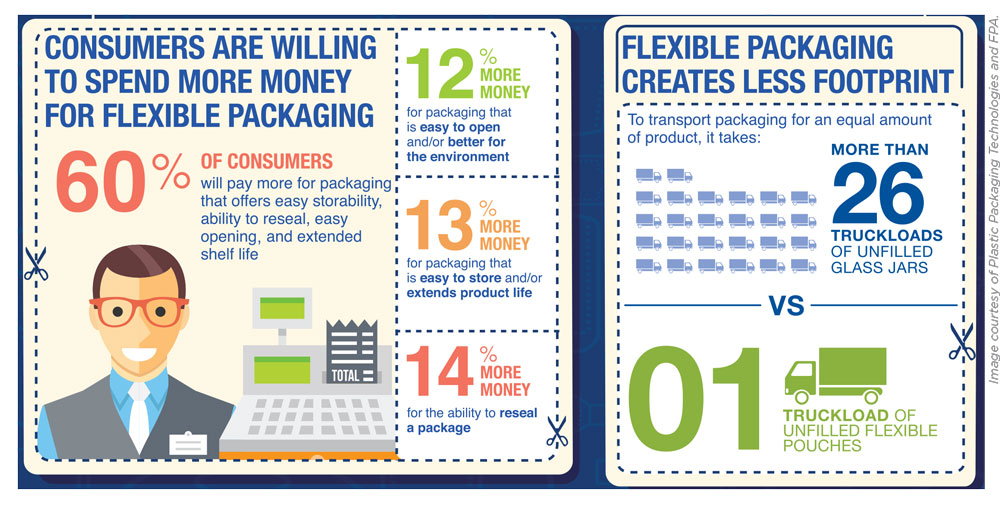 There are significant opportunities for growth in flexibles as e-commerce continues to accelerate. The momentum behind e-commerce was strong long before the pandemic, but now the rate of acceleration and broad consumer acceptance will drive packaging innovation to address the need for new formats and performance requirements. While consumers love the convenience and safety of products delivered to their door, they are increasingly frustrated by the multiple levels of protective packaging required, which is quickly discarded and wasted. Innovation in flexibles can—and will—solve many of these challenges, as rigid packages are replaced with sustainable flexible options. Hold on tight, innovation in flexibles will accelerate alongside e-commerce.
Evolving Habits
Meanwhile, consumer habits are changing—perhaps for the long-term. Consumers and their families are working from home for the long haul and finding new ways to snack and prepare meals for themselves and their pets. At some point, following a successful vaccine, consumers will be excited to venture out again to their favorite restaurants, but there's no doubt that many consumers have found enjoyment and satisfaction from food consumed at home. As such, there is significant buzz being generated by companies quickly shifting assets from producing institutional and foodservice products and reallocating this capacity to retail products. As a result, it's driving an increase in demand for retail packaging, which has significantly different aesthetic and performance requirements. This will translate to continued significant growth in pouches and other flexible formats to drive shelf (and screen) appeal and attract new customers.
These trends, and a few others, are quickly rising out of and accelerating as a result of these unique times. To paraphrase Charles Dickens, this is the best of times and worst of times for our industry, which will require bold leadership, vigilance, and endurance to successfully maneuver and position each flexible packaging company for success.
Daniel C. Staker is executive vice president at Plastic Packaging Technologies, LLC, based in Kansas City, Kansas.