Nationwide, industries have been struggling to find well-trained workers, and the packaging and flexible packaging industries have not been immune. Over the next year, FlexPack VOICE® will profile some of the colleges, universities, and schools that have developed programs to train our future workforces. In this issue, we talk to Daniel P. Johnson, professor and chair of the department of packaging science, college of engineering technology, at the Rochester Institute of Technology (RIT) in Rochester, New York. 
FlexPack VOICE®: Tell us a little bit about the packaging program at your school.
Daniel P. Johnson: The Department of Packaging Science at the Rochester Institute of Technology offers comprehensive packaging science degrees at the bachelor's and master's levels. Our students learn the diverse set of skills required in packaging—including design, materials, containers, distribution, marketing, supply chain, food, and medical packaging—along with a rigorous under-lying set of courses in math, science, and the liberal arts. We also partner with RIT programs such as Industrial Design, Engineering, and Engineering Technology to offer students minors in Packaging Science and Flexible Packaging. Cooperative education is required in our undergraduate curriculum and is open to graduate students. We feel this industry experience is critical to helping students apply their skills and explore the many different industries they might join as they graduate and become packaging professionals.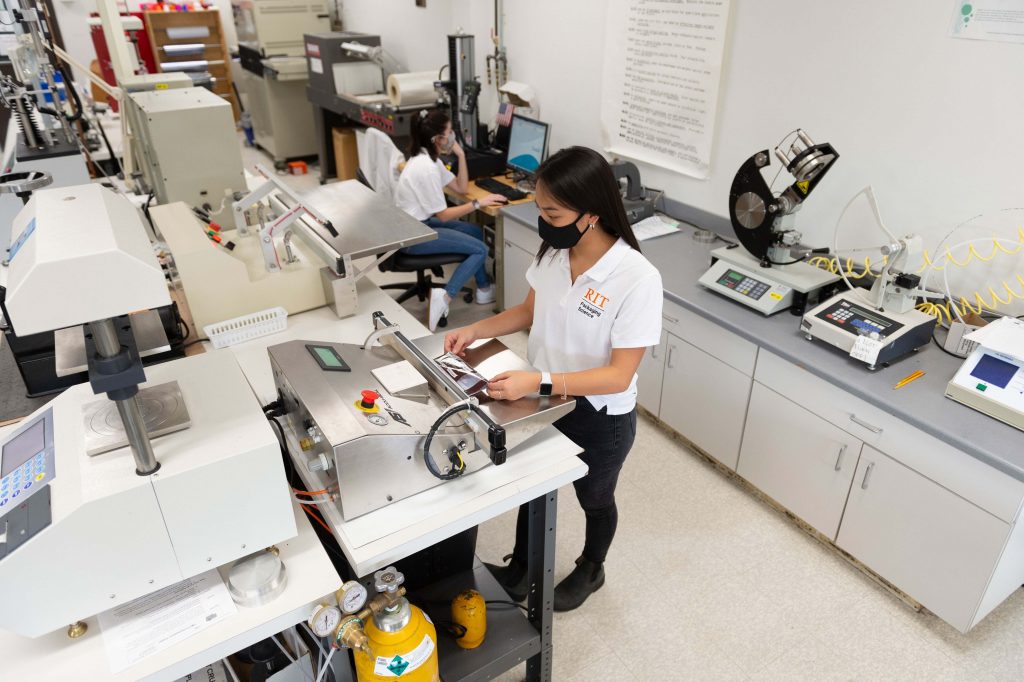 FPV: What are the key skills that packaging employers are looking for?
DJ: Employers are looking for many different skills to engage students as they start their careers. Often, design prototyping and packaging evaluation to ISTA (International Safe Transit Association) and other standards are the initial assignments. But, as the assignments and students grow, the most in-demand skill is the ability to collaborate professionally on cross-functional design/development teams, which involve manufacturing, marketing, product development, and senior leadership. Packing by its nature is a team sport.
FPV: What emphasis do you put on flexible packaging?
DJ: All packaging formats are a part of the hands-on curriculum in terms of formal lectures, projects, labs, and co-op experiences. But we expanded our focus on flexibles in recent times with the creation of our American Packaging Corporation Center for Packaging Innovation, which is a lab that can quickly prototype, develop, and test innovative flexible structures. The center has a lab blown film line and other prototyping tools alongside evaluation equipment. This partnership with the American Packaging Corporation has increased our abilities in flexibles in a huge way. And their team of application engineers can inform the faculty and keep them up to date with great research questions based on current industry needs.
FPV: What do you see as the future challenges in the packaging industry?
DJ: With over 90 major brand owners committing to incorporating large amounts of post-consumer recycled content in their products, we expect recycling research to blossom into the serious area of research it deserves to be. Automation, mechanical sortation, consumer communication, molecular level processes, and other areas of recycling all have a role to play in being able to better mine our waste streams for increasingly valuable raw materials.
FPV: Anything you would like to add?
DJ: Packaging Science is a little-known yet powerful college major for the students who engage. Few degrees offer such great and diverse employment outcomes and allow students to combine skills in creative design, engineering, science, business, and project management. And doing packaging correctly is one of the strongest tools we have to help create a more circular and sustainable economy.